The building blocks of a sustainable and significant market rise are almost in place.
Amid doom and gloom scenario, three major events/trends have started to unfold during the past quarter, and if these materialize as are currently expected over the next six months, it can change India's landscape, both in terms of reversing the sagging Indian economy, and also the nervousness that prevails in the stock market.
These are: one, the temporary Iran nuclear deal (to be converted into a permanent one in 2014) with six major countries could result in huge political and economic gains for India particularly with expectations of low crude oil prices; two, the appointment of Janet Yellen as US Fed Chairperson who is believed to be committed to a very low federal funds rate for a few more years; and three, the increased probability of business friendly BJP government coming to power in April-May 2014. There is very high probability of all three working out together over the next six months, and that could act as a major game-changer for India. Thus, the year 2014 is going to be fascinating for India. We will have an incredibly important election and the possibility of markets finally breaking out of their six-year trading range.
But first the challenges:
The Indian economy still continues to suffer from major macro-economic challenges. The rupee remains volatile due to heightened expectations of a scale-back of quantitative easing by the US Fed in early 2014.Gradual tapering has since been announced without any major negative impact so far. The country continues to face challenges like weak economy, high inflation, high interest rates, increased fiscal deficit, high current account deficit and political uncertainty. Most of these are largely self-inflicted due to "evaporation of government and governance" in the last few years. An interesting analogy is being used to describe bad governance: it's like diabetes, once it enters the body, it invites all other diseases. Today, we can reverse the current negative sentiment and change the course of the economy, provided we have a strong and determined leadership.
Game changing Iran deal:
After the amicable resolution of the Syrian crisis, if the temporary Iran nuclear deal entered at Geneva in November 2013 with six world powers,is converted into a final agreement in the coming year, it would come as a major relief for India. With the easing of sanctions, Iran is likely to enter international oil market with a bang and announce competitive prices, which will inevitably trigger fall in prices of oil. Iran has already made known its intent by announcing that they will produce 4 million barrels per day even if the price drops sharply. Crude at low rates has a substantially beneficial effect on India's inflation, trade deficit and exchange rate.
Apart from these economic gains, India is also going to hugely benefit politically, diplomatically and strategically from the Iran deal. This development will not only cool the volatile politics of the Middle East, but also strategically lessen the importance of Pakistan for the US as far as Afghanistan is concerned. If India is able to reach Afghanistan through Iran's Chabahar port, it can tap into Afghanistan's vast mineral market apart from participating in its infrastructure development.
Appointment of Janet Yellen as US Fed Chairperson:
The Fed under Janet Yellen is expected to be committed to a very low federal funds rate for several more years. That commitment to low rate is much more important than the precise timing of tapering the $85 billion a month bond purchase program. The Fed's withdrawal of stimulus through asset purchase would be positive for the US and global markets. Markets will then start believing that the US economy will hold its steady growth path without liquidity support and that will add to the perception of a stronger economy. The market would then not move on artificial liquidity, but on prospects of stronger economic fundamentals.A stronger US and world economies are extremely good news for Indian exports particularly with recent sharp depreciation of the Indian rupee.
Expectation of BJP coming to power:
With the four state elections behind us, it is being projected that the change of government at the centre is imminent. Brand Modi is gaining ground across the country. In fact, some of the apprehensions about Modi are losing their sting. The investor community perceives BJP and its PM candidate Modi as being more business-friendly and reforms-oriented than the current Congress government. Therefore, they are expected to be better equipped to put the economy back on a high growth path. Modi is seen as a catalyst for change and growth.
Further, two aspects about the just concluded state elections have reinforced investors' confidence in India: one, the robust functioning of the Indian democracy and two, the huge voter turnout in all four states, where people voted for issues that matter most to them. The large participation from young and first time voters also showed that issues such as education, jobs and economic opportunities hold prominence over the freebies promised in election manifestoes.
The current state elections have also shown a massive silent transformation in India, a move from 'caste to class politics'. Voters are giving a decisive mandate to leaders pursuing an agenda focused on 'growth and governance' and completely rejecting the 'dole out' or entitlement-driven policies.
India's slowdown has already bottomed out and it is being hoped that a change in the political climate will lead to a change in the economic climate too. However, general elections are five months away, and in that long period, anything can happen. AAP party (an offshoot of the Anna Hazare movement) could fizzle out. Congress could claw its way back. BJP could rethink Modi. This is because politics is the art of the impossible.
The worst is behind us:
While the macro-economic parameters still remain weak, we believe, the worst is behind us. We foresee the sentiment turning positive in the next few months on expectations of an improved economic activity with better and quicker policy decision-making and consequent robust investment climate.
However, there is likely to be higher volatility for the next few months, due to domestic and global factors; particularly with the US Fed tapering its bond buying program from January 2014, and the domestic political uncertainty ending with the general election due before mid-2014.
Market polarization:
As indicated in our past newsletters, there has been a sharp polarization in Indian markets. While both Sensex and Nifty are currently trading at or near all-time highs, both small-cap and midcap indices are currently trading at least 30 per cent lower than their peaks. This is largely due to concentrated buying by FIIs in large-cap stocks over the past few years with domestic investors continuously selling small-cap and midcap stocks. With large-cap stocks trading at high multiples, investors' focus has now shifted to quality small-cap and midcap stocks.
The Economic Times recently conducted an interesting exercise to highlight the extent of FII dominance. They tweaked the Sensex to remove all stocks with low FII holdings and assumed the benchmark to comprise the top 15 stocks with the highest FII holding. Seen this way, and taking the Sensex base of 2008, the new Sensex was seen to be close to 41,000 – almost double the present level. If the stocks with the lowest FII weightage were taken, the index was seen to be at 16,000; almost 25% lower than the current level. The benchmark's value with only midcap stocks was 13,369 while it was at 9420 with small-cap stocks.
Equities are under-owned and un-loved:
Indian equities are grossly under-owned by domestic investors. It is astonishing that the entire Indian mutual fund industry has equity assets under management of only $25 billion in a $2-trillion economy with annual household financial savings of over $150 billion. We believe, the step up in domestic equity investment will soon take place and will continue for several years. Mark Faber recently opined in an interview with CNBC, that he saw attractive opportunities in small-cap and midcap stocks in India. Historical data also corroborates that whenever the markets are on the rise, small-cap and midcap stocks outperform the large-cap stocks.
Simply put, equities are under-owned and un-loved, and that presents a huge investment opportunity.
QuestPMS Performance:
QuestPMS performed well during the quarter October-December 2013. The composite performance table gives our performance vis-à-vis small-cap, midcap and large-cap indices over different time periods.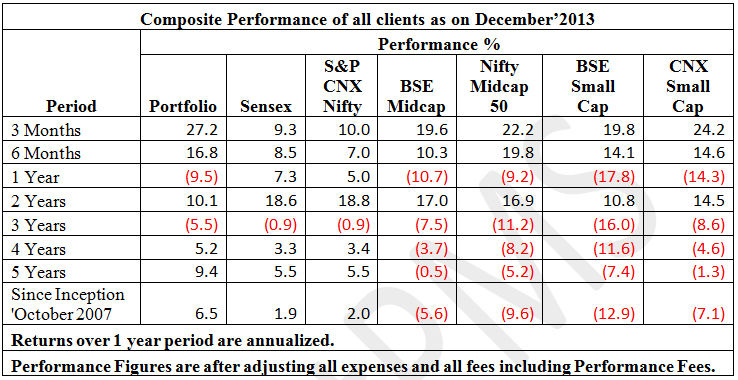 You will observe from the above table that despite small-cap and midcap space not doing well over the past five years, and that being our main fora, stocks in our portfolio have still done quite well over the same period.
We believe, a Modi-led BJP government has higher probability to come to power in May 2014 general elections. We also believe, our economy has bottomed out and will start to do well with a strong and stable government. This should lead to increased foreign investment in equities apart from the return of domestic investors. We also believe that small and midcap indices (which are trading at around 30 to 40 percent discount to large-cap indices) will outperform in the next 12 to 18 months. With our composite portfolio trading at a price-earnings multiple of 10 times for FY2014 and 7 times FY2015, we believe, we are in for some exciting times.
Our portfolio composition is as follows: Infrastructure & Engineering – 29 per cent, IT & Software – 13 per cent, Pharma & Healthcare – 14 per cent, Specialty Chemicals – 13 per cent, Agri Inputs – 9 per cent and FMCG – 5 per cent & Media – 4 per cent.
At composite level, we expect companies in our portfolio to grow Sales & Income at 16 per cent CAGR for FY2014 and FY2015. Earnings for these two years are expected to grow more than 30 per cent annually. Most of the companies in the portfolio derive more than half of their revenues from global markets. Almost half of the companies are debt-free, with borrowings as a percentage of market capitalization of composite portfolio is just 11 per cent.
Risk factors:
While we are very confident of our performance in the coming period, it is not out of place recapitulate some of the risk factors which might arise due to high global and domestic volatile economic situation. Some of these are:
– impact of the recently announced scale back of quantitative easing by Fed from January 2014,
– a weakened and hurt Congress government could be tempted to announce more populist measures which could further aggravate the fiscal situation, and
– an uncertain domestic political situation arising from the general elections with no party capable of forming a stable government in April-May 2014 which results in indefinite delay in critical reform measures.
However, this adverse situation may largely get mitigated if the expected sharp fall in oil prices materializes. All said and done, the next five months could be a very volatile period for the markets. Election results are always uncertain, and with hype on forecasts and predictions, markets will have wild swings on either side.
Conclusion:
"Small and Midcap stocks are at historic low valuations. Investors may get exceptional returns from these levels if past trends are any guide".
There is definitely room for a sharp upside in equity prices via increased earnings and re-rating of stocks on better sentiment. Earnings and growth are at an inflection point; valuations are reasonable; macroeconomic risks are receding, and signs of political change are visible. This is a sure recipe for higher stock prices.
We do expect a new bull market to kick-start in India sometime soon with expectations of BJP coming to power and expectation of lower crude oil prices. The probability of both these events happening simultaneously sometime in mid-2014 is quite high. We think we will be in 2003 to 2006 kind of scenario from the middle of next year. The building blocks of a sustainable and significant market rise are almost in place.The only major downside risk for India now is a hung Parliament and that will play out over next five months.
We wish you a Very Happy, Healthy, Prosperous and Peaceful New Year 2014.
Ajay Sheth
December 31, 2013.
DISCLAIMER: This communication does not constitute or form part of any offer or recommendation or solicitation to subscribe or to deal with QuestPMS. The views expressed by Ajay Sheth, Portfolio Manager QuestPMS are his personal views as on the date mentioned. These should not be construed as investment advice to anyone. This communication may include statements that may constitute forward looking statements. The statements included herein may include statements of future expectations and, are based on the author's views, observations and assumptions and involve known and unknown risks and uncertainties that could cause the actual results, performance or events to differ substantially or materially from those expressed or implied in such statements. The author does not undertake to revise the forward looking statements from time to time. No representation, warranty, guarantee or undertaking, express or implied is or will be made. No reliance should be placed on the accuracy, completeness or fairness of the information, estimates, opinions contained in this communication. Before acting on any information contained herein, the readers should make their own assessment of the relevance, accuracy and adequacy of the information and seek appropriate professional advice and, shall be fully responsible for the decisions taken by them.