Dear Investor,

QuestPMS has come a long way since we started in October 2007. The journey of little less than 4 years has seen lots of ups and downs in terms of global meltdown, US and European crises, Indian elections,QE1 and QE2, rising importance of BRICS countries in the global economy, rising commodity and bullion prices and so on.

At the time we launched QuestPMS, the BSE Sensex was 17600: it touched a new high of 21206 in January 2008; dipped to low of 8347 in March 2009 and is currently at 18200. The Sensex has remained at more or less the same level at which we started. QuestPMS has withered all the ups and downs throughout its journey and, has generated a compound annualised return of 24.1% after all expenses and fees for its investors. We remained focused on individual company fundamentals instead of trying to understand the implications of macro economic variables and global events. The latter usually creates short term volatility.

We humbly present the outcome of remaining committed to our investment philosophy and seeking "absolute returns" on clients capital vis-à-vis "relative returns to various indices".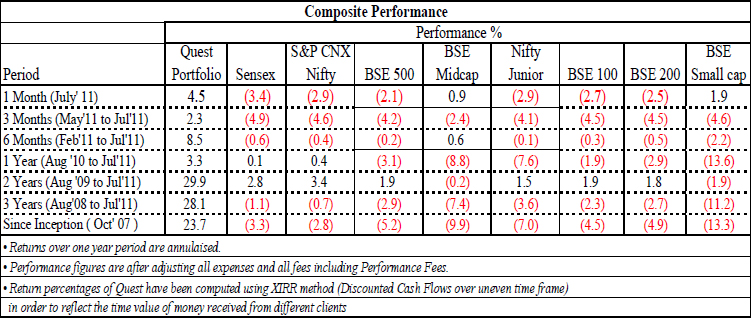 Our moment of pain
The QuestPMS portfolio is reviewed regularly and tested for consistency of performance versus the management's stated objective. In July 2011, after a review, we exited from a company although there was an erosion of 37% in its value. This is the biggest loss that we have booked since inception. The decision to exit was driven by our stated objective to invest only in those companies that are run by a quality management and, have performed consistently even during adverse times. The decision to book a large loss and face our investors with confidence has been a humbling experience. Peter Lynch has paraphrased this aptly:
"All you need for a lifetime of successful investing is a few big winners, and the pluses from those will overwhelm the minuses from the stocks that don't work out." – Peter Lynch
Changes in environment
There are changes that could impact the indices, at least in the short term.
Global
Though the impact of changes is beyond the realm of our expertise, we have listed some observations:


American politicians are playing chicken with the possibility of debt default by refusing to increase the debt ceiling. Petty politics may well derail the global economy. The implications of AAA rated US treasury bonds default, is a catastrophe of biblical proportions. Full implications of such an event are still being assessed.

Even though early reports from Greece suggest that they may avert a debt default by agreeing to austerity measures, their willingness to sustain compliance will only be visible by the end of the year.Further fresh doubts have been rising about Ireland, Portugal, Italy and Spain.

Slowdown in global economy, including China and, no further liquidity easing by the Fed may soften commodity prices, especially oil.
Domestic
India is likely to be one of the major growth engines for the world economy. Some trends that are presently visible are:


The Indian government which had been paralysed by allegations of corruption and poor governance now appears to have started functioning.

As per the RBI, there is no evidence of a sharp slowdown in the growth momentum. A slow down in global economy may soften commodity prices, especially oil and, help control inflation. Earnings growth appears to be reasonably intact, except in a few sectors.

SEBI has proposed changes in takeover rules. The threshold to trigger an open offer has been increased from 15% to 25%.
We, at Quest, believe that a buoyant rural economy and large domestic consumption are more relevant factors that will deliver returns on our portfolio. The proposed changes in takeover rules may benefit players who manage funds as private equity investors. These managers can now collectively, through a pool, own larger stakes in a listed company without having into invest a substantial sum. These changes will provide a further fillip to our investment philosophy of creating a concentrated portfolio.
QuestPMS portfolio and its fundamentals
We have a bottoms-up approach to stock picking that is in line of generating wealth over a 3 to 5 year horizon. We manage risk by restricting sectoral and individual company exposure. The sectoral exposure across all client accounts as on 29 Jul 2011 (last trading day) is:

The fundamentals of companies in QuestPMS portfolio are: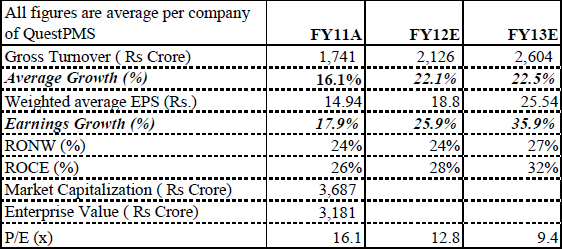 Two features which are noteworthy are:

Average Price/Earnings is half of average of growth rate in earnings and

Enterprise value of companies in QuestPMS is lower than Market Capitalisation, indicating cash rich companies
Our moment of elation
Since our last communication to you, Deloitte Haskins & Sells completed the first audit of QuestPMS for 2010-11. In addition, we have entered into a partnership with a US based global leader in wealth management to market QuestPMS.
Conclusion
During our journey, we remained committed to our investment philosophy through the ups and downs witnessed in the markets. Our performance during this period has only reinforced our faith in the philosophy. We, at QuestPMS, are committed to continue to identify growth oriented companies and monitor our portfolio in line with our philosophy of investing in companies with quality managements that will create shareholder value over a 3 – 5 year period.
Our strategy will continue to maintain a concentrated portfolio comprising of companies that are available at an absolutely reasonable price and nurture them like a private equity investor in listed arena. Benjamin Graham, one of the best known value investor has put this succinctly:
"An investment operation is one which, upon thorough analysis, promises safety of principal and an adequate return. Operations not meeting these requirements are speculative."
We will continuously strive to be "Quality Manufacturers" and leave marketing and client acquisition to our newly tied-up "Quality Partners with Impeccable track record". We thank you, for continuing to reinforce faith in our ability.
Warm regards,
Ajay Sheth
Portfolio Manager-QuestPMS
July 29, 2011