Markets Await Lord Indra's Blessings for a Durable Rally
As expressed in our last newsletter (March 2012: Market at Crossroads: Commodity prices can become the game-changer for India) in which we had argued that it is not possible for oil and commodities prices to sustain such a high level given the sharp deceleration in global economic growth rates. It was our belief that softer prices of crude oil, coal and metals can change "GLOOM to BOOM" for India. In less than 3 months, oil and commodities prices have fallen by ~25 per cent in dollar terms. Since India is a net commodity importer, despite a sharp depreciation of the INR, overall the fall in oil and commodities prices is likely to be positive for the Indian economy.
While it is difficult to predict commodity prices, BHP Billiton, the world's largest miner, has trimmed its outlook for commodities prices over next three to five years, a sign that natural resources groups are braced for a lasting impact from the global financial crisis. Similarly, OPEC, which supplies 40 per cent of the world's crude oil, normally responds to a sharp drop in oil prices by production cuts. Currently it seems, Saudi Arabia's policy objective is to prevent crude rising beyond $100 a barrel, in order to mitigate the risks that high oil prices pose to the global economy. In fact, Saudi Arabia ramped up production after oil prices surged earlier in the year in order to reduce the oil prices.
What does bearish commodity outlook mean for India? Except for mining and commodity producing companies, lower oil and commodity prices will translate into lower input costs resulting in fall in end product prices for consumers (thus lowering inflation) or partly let the cost savings flow to profits.
As expressed in our March 2012 newsletter, sharp fall inflation is the one factor that can change the current gloomy environment in India. Reduction in inflation can bring a big relief all around. Lower oil and commodity prices are the key to reducing inflation. It will help RBI sharply reduce interest rates; it will boost both savings and investments and; it will also bring down fiscal deficit. However, it may take a few months for the full impact to be noticeable due to the high priced inventory in the pipeline.
Sharp Rupee Depreciation – a bane or boon?
In the past one year, the rupee has depreciated by ~25 per cent against the US dollar. During the same period, the Chinese Yuan has appreciated by ~2 per cent against the US dollar. More often than not, sharp depreciation of the rupee is portrayed as a big negative for the Indian economy. It affects 55-60 per cent of the manufacturing sector's revenue i.e. those inputs that are procured at import parity prices. This prevents the fall in commodity prices from being reflected in domestic price trends. It also severely impacts companies that have borrowed overseas and not hedged their positions.
But any price movement creates winners and losers, and the dominant economic effect here is that it will help import substitution, which will give a boost to domestic manufacture, and boost export competitiveness. An uptick in manufacturing will be the single biggest positive development to look forward to, given the stagnation in this vital segment of the economy over the past half-year. The experience of our earlier devaluations – especially adjustments in 1966 and 1991 – suggests that depreciation of the INR leads to substantially better trade balances within a year or two.
In our opinion, the combined effect of the rupee depreciation and the simultaneous appreciation of the Chinese Yuan will significantly improve competitiveness of the Indian corporate sector. It is very likely that over the coming three years, profit growth will accelerate sharply from the modest sub-eight per cent of 2008-11.
Corporate Performance for the quarter ended March 2012
Despite a large number of negatives during the quarter January to March 2012 – high oil and commodity prices, rupee depreciation, government inaction, high interest rates, global turmoil etc., the last quarter was one of the best with Sensex companies reporting a net profit growth of around 22 per cent Y-o-Y and revenue growth of 19 per cent. For the 3,175 companies, revenues and profits grew 18 per cent and 15 per cent Y-o-Y. With a decline in oil and commodities prices, we expect the corporate sector to bounce back strongly in the coming quarters, particularly in the second half of 2012-13.
Reforms and Infrastructure Development
Even on the government front, it seems unlikely that things can get any worse. On the margin, decisions are being taken, albeit from an incredibly low base. There seems to be a desire to control government finances, and an awareness that growth will get seriously constrained unless the government machinery begins to move. On infrastructure, things are starting to move, and some of the more outlandish decisions – be it on gas distribution or telecom – are getting toned down.
While the present government's track record is uninspiring as far as reforms are concerned, the elevation of Pranab Mukherjee and Mamata's diminution offers some hope.
What can go wrong with India story?
The fall in oil and commodity prices may mean that things will turn positive. But there are an equal number of commentators who are of the view that it may not be very smooth for the Indian economy. Some of the concerns being voiced are:
The monsoon forecast is not encouraging and, a poor monsoon can adversely impact agricultural production hurting both growth and inflation. In such a scenario, RBI may continue to keep interest rates high. And if interest rates continue to be high, capital formation may not take place at the desired level.
The global economy is slowing, so export markets will be slack.
International money is fleeing to safety (US dollar), so there could be capital outflows, which could put further pressure on the rupee.
The government can continue to remain in denial and paralysed. Infrastructure investment and reforms could remain in limbo.
While a sharp fall in oil and commodities prices could be the single most important factor which should take Indian economy out of the woods in the coming months, a poor monsoon may spoil the show. Thus far, the rain gods have not yet showered the blessings on Indian farmers: the arrival has been delayed due to "El Nino". In 2009, the repercussions of a truant monsoon were far reaching – agricultural growth rate slipped to 0.1% and food inflation touched 20%. A repeat will make the task of inflation management even more difficult for the government that is already facing criticism for not doing enough to ease supply constraints. In such a scenario, the RBI may be forced to keep interest rates high and, postpone investment in capacity creation.
Good Environment for Picking Stocks
If one cliché were to sum up the current market conditions, it would have to be: "there is an opportunity in every threat." So will a new dawn break for the Indian markets?
While there is no definite answer to this one, what is clear is that after the sell-off in May, exuberance seems to be returning to the market, as valuations have dipped to levels seen during some of the biggest crises over the past 25 years. History shows that in bear phases, stocks are hammered irrespective of their performance. And, when investors exit en masse, even quality gets battered. In the process, the price-earnings multiple of the Sensex has dipped from its historical average of 15x to 12.5x. The price to book value has also fallen to three years lows. Some of the quality small cap stocks are trading below 3-4 times their historical earnings. From a contrarian perspective, the best investments are made when sentiment and positioning are extremely adverse and things are getting better on the margin. Valuations are most attractive at such times.
Although the RBI held the rates and CRR steady in its June policy review, it will finally start easing rates in a sustained manner once inflation comes under control. Regardless of growth projections, a rule of thumb suggests that a drop of 1 per cent interest rate equates to a rise in fair value of between 1.5 to 2 price-earnings for the broad market indices.
It is often seen that a crisis invokes a self-correcting institutional action. This, along with our demographic trajectory and under-valuations, will inevitably attract capital again. So 'everything seems hopeless' turns into 'everything looks great' as the rupee, fiscal and current account deficit simultaneously improve with a fall in oil and other commodities prices.
Performance of QuestPMS
After a non-too-encouraging performance for the last financial year, QuestPMS performed well during the quarter April-June 2012.

However, our performance for the trailing one year is below the overall performance for longer periods. This is due to the natural exclusion of one of our better quarterly performance's i.e. for April-June 2011 from the relevant period. The anomaly may continue for the next two quarters due to the inclusion/exclusion of a specific quarter in the rolling one year period. The XIRR method of computing portfolio returns is also impacted by the inflow/outflow of funds. We are confident that in the next two quarters, the performance of QuestPMS even for the trailing one year period will revert to its long term trend and, we will be able to perform better than the benchmark indices for all time periods.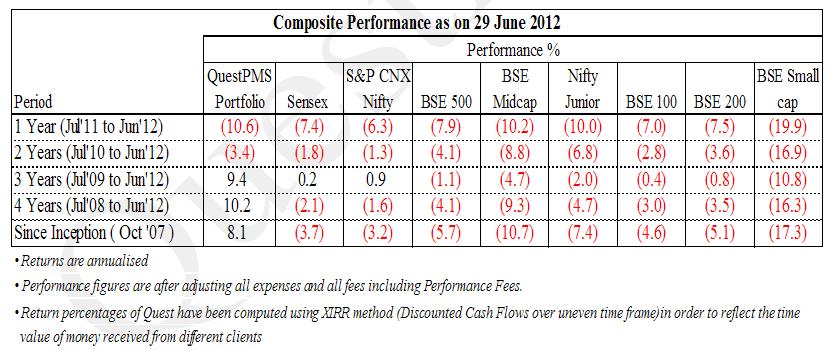 Whenever investors' apathy is witnessed, losses on small cap are on poor volumes and, conversely it is also true that the share price of these stocks appreciates faster whenever investors' interest returns. We expect to do well in coming quarters as most of the companies in portfolio are doing very well. We have utilized the current weakness in the market to further strengthen our portfolio. At an aggregate level, the cash and cash equivalent in QuestPMS is now ~7 percent down from ~25% at the end of March 2012.
Conclusion
"Bull markets are born on pessimism, grow on skepticism, mature on optimism and die on euphoria." – Sir John Templeton.
We have reproduced a paragraph from our March 2012 letter that had a quote from a leading banker regarding the current domestic situation – "The mood right now may not be as glum as we were making out to be last year but it's not as positive as it would have been. I believe there is a wall of money sitting offshore that is waiting to come to India. They want to invest, they want a reason to invest, we have to give them that reason and we have not been able to do that in the budget." In our opinion, India represents a very large opportunity which no serious company or investor could or would like to miss.
There was a time, until a few years back, when corporate success stories in the media attracted criticism that the media was ignoring the warts in the system. Today, the shoe seems to be on the other foot. Everyone is focusing on the problems; very few (if any) are looking at the good news that is still there.
As T N Ninan, Editor of Business Standard puts it: "In concentrating on the admittedly riveting sight of Kingfisher and Air India self-destructing before our eyes, we have taken our gaze away from the success stories in the same field of aviation; this is a classic case of Schumpeterian creative destruction – the inefficient are being driven into the ground, the efficient are soaring high. The market is working. Winners and losers are being sorted out elsewhere as well. HDFC Bank and Kotak Bank have a very high price-to-earnings ratio whereas most PSU banks have a low PE ratio – telling very different stories about how investors view the different banks."
The FIIs have dominated the Indian markets and, the domestic investors have been decimated. More importantly they have been followers. But the potential of the domestic investors is vast: last year, the net inflow of FII money was US $17.4 billion and our domestic savings are US $350 billion. For the typical high net worth individual, equity allocations are sub-10 per cent (the lowest ever). Data from the RBI indicates that the percentage of financial household assets in equities is at a 30-year low. Domestic investors have turned cautious and continue to pile money into real estate, gold and fixed-income assets, assuming the strong relative returns of these assets over the last five years will continue into perpetuity. There is a huge wall of money sitting here, which will eventually gravitate to equities as this asset class starts delivering some performance.
Investors' have started valuing quality. Companies with questionable management are being ignored, regardless of price. The phase of momentum investing is over. In our opinion, the global economy is likely to be suffering from shortage of growth and is also likely to be flush with low cost funds seeking growth. This scenario is best suited to a stock-pickers' market. In times like this, you see differentiations playing out between companies that are prudently managed – those that didn't over-gorge on assets in boom times and have prudently expanded without straining themselves. And, those which performed well when the tide was in their favour and now, have to go through a period of digestion as growth shifts to a lower trend. If India can perform at a reasonable level, we expect large funds will flow into the markets. It is our view that the market has already started forming base for durable rally and, is awaiting blessings from Lord Indra.
A quote from Ridham Desai of Morgan Stanley sums up the present situation: "It feels like 2002 right now. If you bought stocks in 2002, you did not make money for a whole year. But, it was difficult to pick the bottom of April 2003. And, it was difficult to buy stocks from 2004 because most stocks had doubled. So, 2002 was the right time to buy stocks though macro and earnings situation just did not feel right. Like in 2002, India may see a few more months of sluggish returns, but that is the time to build a portfolio and wait for things to happen."
Warm regards,
Ajay Sheth
June 29, 2012
To know more about Quest and QuestPMS please visit our website: www.questinvest.com
DISCLAIMER: This communication does not constitute or form part of any offer or recommendation or solicitation to subscribe or to deal with QuestPMS. The views expressed by Ajay Sheth, Portfolio Manager QuestPMS are his personal views as on the date mentioned. These should not be construed as investment advice to anyone. This communication may include statements that may constitute forward looking statements. The statements included herein may include statements of future expectations and are based on the author's views, observations and assumptions and involve known and unknown risks and uncertainties that could cause the actual results, performance or events to differ substantially or materially from those expressed or implied in such statements. The author does not undertake to revise the forward looking statements from time to time. No representation, warranty, guarantee or undertaking, express or implied is or will be made. No reliance should be placed on the accuracy, completeness or fairness of the information, estimates, opinions contained in this communication. Before acting on any information contained herein, the readers should make their own assessment of the relevance, accuracy and adequacy of the information and seek appropriate professional advice and, shall be fully responsible for the decisions taken by them.