Not just a New Regime, It's a New Era
India decisively votes for change:
The Modi-led BJP has won the general elections with a thumping majority and the stock market is on a cloud nine. This electorate verdict of 2014 may not just be a regime change but may very well be the beginning of a new era for India. It is a verdict of "Hope" towards "less government and more governance". The dark days of gloom, indecision and judicial activism are likely to be replaced by a recharged, transformed and aggressive India.
As Martin Wolf writes in Financial Times: "If the election of Narendra Modi were to transform India, it would transform the world." He further adds: "It is already possible to identify at least three ways in which the election is remarkable. First, India has shown yet again the single virtue of democracy: the peaceful transfer of legitimate power. That this is possible in such a vast, diverse and poor country is an inspiring political achievement. Second, Indians have rejected the dynastic politics of the Congress party. And third, Indians have chosen a truly self-made man like Modi who promises to improve their lives. That is testimony to India's transformation over the past quarter of a century." And he concludes: "But one thing is sure: India has a new game. Pay attention."
A Great Start:
The new government has made a terrific start. Time will tell how this plays out, but it has begun decisively and set a sure tone. Besides, the government has already shown wisdom in its actions in not rolling back some of the previous government's good schemes. If this wise approach continues to show in their thinking and action, greater support is likely from civil servants, citizens and perhaps even opposition politicians, resulting in better outcomes.
Despite the daunting tasks ahead the prospects appear very encouraging, because of a clearly mandated government. Another positive factor was a electoral shift favoring development over regressive caste and religious affiliations or hand-outs. This happened abruptly, without warning. If such tremendous change is possible so quickly, imagine what good leadership and honest governance could pull off with an inspired and supportive citizenry.
India to outshine in growth starved world:
Also, there is an increasing perception that this could be the beginning of an extended period of outperformance for India and Indian equities. The recent election may just turn out be an inflection point for India's economic prospects. What helps India's case is also the fact that growth is currently very tepid in most countries globally. Any country that can accelerate and finally deliver the promise of an extended run of seven per cent economic growth will lead to rerating of its stock market. On the flows to the market, while foreign flows into India will remain strong over the coming years, the real story will be that of domestic investors.
Domestic money to chase small cap and midcap stocks:
During the challenging years of 2008-13, Indian corporates have restructured and become more competitive. Corporate governance has become better and yet Indian investors have become more risk-averse and grossly underexposed to equity. We are at the cusp of an era of strong policy framework, business and investor friendly environment, elimination of supply-side constraints, initiation of a new capex cycle, falling interest rates, increased job creation, higher savings and increased foreign and domestic inflows in the stock market. While this is more obvious now, most of us are unable to comprehend the scale and the longevity of this change.
Most indices hit all time highs in January 2008. More than six years have passed. Sales and profits of most companies have nearly doubled during this period. And while the Sensex and Nifty constituting large cap companies have surpassed its previous high of 2008, midcap and small cap indices have yet a long way to go and hence providing attractive investing opportunities.
This is mainly due to the fact that during last 6 years, while FIIs have invested more than Rs.5 trillion in Indian equities, an equal amount has been w
ithdrawn by domestic investors from the market. Despite the recent rise in prices of small cap and midcap stocks, they are still much cheaper than their large cap peers. Small cap and midcaps experienced huge outflows in the past few years. This scene could reverse if the bounce back in small cap and midcap counters are anything to go by.
The current situation is similar to 2003-07 periods, when fundamentals initiated a bull run. Small cap and midcaps tend to show outperformance during the periods of economic recovery and rising GDP growth. During the five year period 2003-07, while Nifty grew by 5.5 times, small cap indices grew by 9.5 times.
QuestPMS Performance:
QuestPMS performed reasonably well during the quarter April-June, 2014. The composite performance table gives our performance vis-a-vis small cap, midcap and large cap indices over different time periods.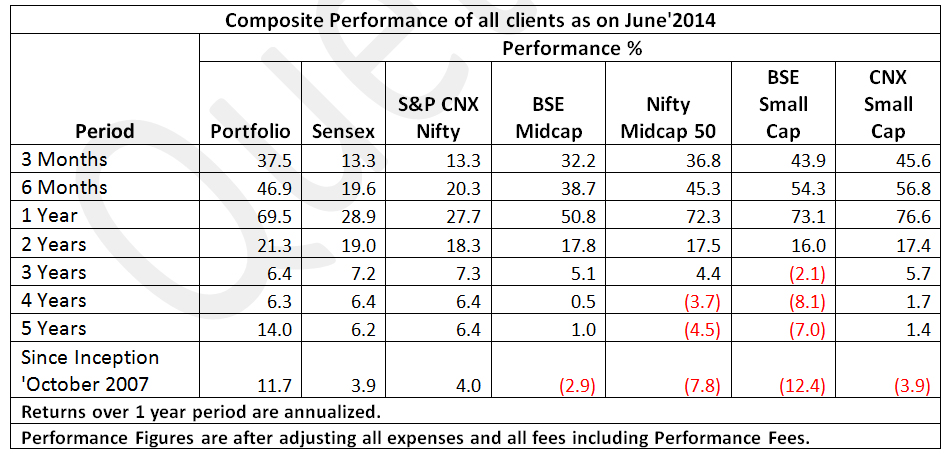 You will observe from the above table that despite small cap and midcap space not doing well over the past six years, and that being our main fora, stocks in our portfolio have still done quite well over the same period.
In the last few years, there has been a great polarization of valuations between the large cap stocks and small cap/midcap stocks. There has been a high premium for large cap stocks as compared to small cap and midcap stocks. It's our belief that these polarizations and premiums will revert to mean.
Switch from physical assets to financial assets:
After the dismal macro-economic scenario of the last couple of years, we are now seeing a gradual economic improvement. The combination of improving macro-economic indicators, focus on growth and an imminent reduction in interest rates clearly put forth a strong case for investing in financial assets like equities.
In the past few years, Indian investors have steadily increased their investments in physical assets such as real estate and gold. With indicators now clearly favoring equity especially in the small cap and midcap spaces, investors will return to equities in order to participate in future gains.
Also, as domestic investors regain confidence, alternative asset classes – such as gold and property – stagnate, one should expect strong inflows from domestic investors into equities. This will be a major driver of this bull market.
All's well but……Harsh steps for economy:
The current state of economy is in extremely bad shape. The new government will need to take tough decisions and strong measures to improve the financial health of the economy.
Monsoon concerns also remain:
Indian economy remains heavily dependent on a good monsoon for a boost in sentiment. In particular, semi-rural and rural consumption is largely driven by agriculture which is driven by good rains. But the latest projections say the monsoon could be patchy and the risk of the El Niño weather phenomenon, typically associated with scanty rainfall in the subcontinent, still looms.
Also, the real threat's external:
While India's domestic investment slump is likely to abate in the coming months, the global economy will continue to pose a formidable challenge. A slowing China, weak global demand, unrest in Middle East and consequent higher oil prices and investor pessimism over emerging markets should worry the government more than domestic economic problems. Indeed, a slowdown in China could tip a global economy already grappling with disinflation into outright deflation.
The recent unrest in Iraq, besides raising oil prices and fanning inflation, can also potentially increase subsidy bill and fiscal deficit. A weak rupee can also impact the government's finances. Recent political disturbances in key oil producing countries such as Russia, Libya, Syria and Iraq could be the starting point trigger in increasing commodity prices.
In a difficult global environment, a sustainable expansion of India's economy can only come from productivity-driven increases in domestic employment and wages. And that means launching a bold reform programme.
Finally, to conclude – The winds of change favour equity:
We expect a significant upside for the equities over next 3 to 4 years. The new government's priorities and the related lift in the decision making environment have substantially improved the chances of removal of bottlenecks and revival of the investment cycle. It will take time but a sharper-than- expected recovery in GDP growth to 8 per cent by FY17 is not inconceivable. In an optimistic scenario, moderation of inflation and rate cut can add further fuel, making the recovery broad- based.
Stock valuations based on the current year's estimated earnings, are being perceived as fully priced these days, but investors must look beyond this year to value markets. Expectations of a revival in the economy and a resultant rebound in earnings growth over the next couple of years will make equities attractive (priced on earnings estimates of next two years).
There will be corrections and pullbacks, but every correction will be a buying opportunity. The bigger issue in this market, if it is the beginning of a secular run, will be to make sure one remain invested despite the volatility and maintain focus on the big picture and the ultimate upside.
While a rising stock market is an opportunity for wealth creation for everybody, once again it needs to be understood that this is the place which requires long term investment. We believe, market upside may be significant in next 3 to 4 years. The stage is set for a new market cycle.
This is a defining moment; this is a moment for India. We are not thinking about the index. We are thinking about what India is going to look like in three years. As Rakesh Jhunjhunwala says: "Believe in India and invest in India". Be prepared for the inevitable and irreversible structural and secular bull market.
Ajay Sheth
June 30, 2014.
P.S.
A Request:
Since QuestPMS invests mainly into small and midcap stocks which suffer from extremely low liquidity in adverse market conditions, we have requested all our existing investors to convert their existing funds with investment horizon of 4 years. All new money from April 2014, will be accepted only if the investment is with the time horizon of 4 years and money will not be pre-maturely withdrawn except in case of financial exigencies.
DISCLAIMER: This communication does not constitute or form part of any offer or recommendation or solicitation to subscribe or to deal with QuestPMS. The views expressed by Ajay Sheth, Portfolio Manager QuestPMS are his personal views as on the date mentioned. These should not be construed as investment advice to anyone. This communication may include statements that may constitute forward looking statements. The statements included herein may include statements of future expectations and, are based on the author's views, observations and assumptions and involve known and unknown risks and uncertainties that could cause the actual results, performance or events to differ substantially or materially from those expressed or implied in such statements. The author does not undertake to revise the forward looking statements from time to time. No representation, warranty, guarantee or undertaking, express or implied is or will be made. No reliance should be placed on the accuracy, completeness or fairness of the information, estimates, opinions contained in this communication. Before acting on any information contained herein, the readers should make their own assessment of the relevance, accuracy and adequacy of the information and seek appropriate professional advice and, shall be fully responsible for the decisions taken by them.