The Winning Way
The month of September has been dominated by news flow about the future of Euro. More than a decade ago when the European countries came together to form the Eurozone and adopt a common currency, there was feeling that a monetary union without a fiscal union will not survive for long. The events of the last few months have reinforced these beliefs. Fear and risk avoidance was palpable during September: although the market was down only ~1 per cent during September 2011, as compared to a ~9 per cent fall in August 2011, there was fear all round. It was not the prospect of a default by Greece or other European nations, but about the perceived risk to the economic stability of a continent that worried investors. A default on sovereign debt will mean that commercial banks in these countries will need to be recapitalized, a difficult task in an environment constrained by liquidity. This is the irony about investor psychology: perception has a greater impact than reality.
"Human beings are subject to wild swings in their levels of fear, risk tolerance and greed. That won't change. I base my whole approach on buying when others are fearful and selling when others are greedy. The reason Shakespeare is so relevant still today is that his plays were all about human nature, and human nature never changes." – Mark Sellers.
In a recent speech at the IMF meeting, the RBI Governor Dr. D Subbarao identified the key risks:
"Renewed anxiety in the US about recession and the deepening of the sovereign debt crisis in the Euro area are the two big flashpoints. Each is by itself a big risk, but the bigger risk is that both could materialize simultaneously, and interact with each other with adverse impact on trade, capital flows and business confidence. By far, the most important factor is the confidence which could hurt investment and growth prospects".
But not all are gloomy. A few days back Jeffrey Immelt, Chairman & CEO of GE, stated:"Business is better than the mood".
A similar optimism is visible in Dr. Mark Mobius, Chairman Templeton Emerging Markets Group, recent comments:
"The debt problems of the US and Europe have resulted in a greater awareness of fundamental and financial strength of emerging markets. As the emerging markets relative health comes to the fore, we may see more capital into these markets and away from assets and currencies of countries burdened with high levels of debt".
Falling Rupee and its impact
Due to risk aversion, investors shifted from equities to "dollar" – a perceived safer investment, atleast in the short term. As a result, the dollar strengthened against all the major currencies. Over the past two months, the Indian rupee too, depreciated by ~11 percent to a level last seen about two years ago. Sharp fall in the rupee against the dollar triggered stop losses of several India-focused hedge funds and index funds. No wonder these funds which look at returns in their home currencies, have been heavy sellers of Indian share in past few weeks. While a fall in the rupee may hurt existing investments, it may also give impetus for fresh investments. Funds will be able to buy more with fewer dollars, especially since stock prices have fallen sharply over the past two months. Most portfolios are severely underweighted to the most dynamic growth economies of the world. A recent research report by CRISIL suggests that "a slowdown in developed economies will increase FII appetite for investments into emerging markets. Higher foreign inflows should strengthen the Indian rupee and it may rebound to ~Rs.45=1US$ by early 2012".
Fed's 'Operation Twist' and its impact on India
In the US, two rounds of quantitative easing have failed to stimulate growth. Despite this, the Fed has now announced "Operation Twist". The prime objective is to reduce long term borrowing costs, flatten the yield curve and incentivize the banks to lend that may eventually help counter rising risks of a recession. The avoidance of QE3 is the best thing to have happened. The additional money that was being printed was fuelling speculation in commodities and currencies. Slowing global growth combined with a lack of incremental liquidity in the system should lead to a correction in commodity prices over the next six months. This should help India bring inflation under control and, will be incrementally positive for the Indian markets which have largely underperformed due to inflation concerns. In the short term, however, a weaker currency may negate the benefits from a fall in oil and commodity prices.
The Winning Way at Quest
The title of this month's letter "The Winning Way" was picked-up from a beautiful book written by well known sports commentator – Harsha Bhogle and his wife Anita Bhogle. The authors have done a wonderful job of using anecdotes from sports to convey their message of finding a winning way. Among the many quotes by sports persons and corporate CEOs that we liked, we have picked a quote of Abhinav Bindra, India's Gold Medalist in shooting at 2008 Beijing Olympic games:
"I believe in an athlete's life, winning is important, but, the journey is more meaningful. The constant pursuit toward overcoming one's own limitations and always challenging the part of you that says you will not or cannot win. I am convinced that everybody has, at some time in their life, faced an equivalent. Something that feels insurmountable. My, perhaps unsolicited, advice is enjoy the ride. Let's face it, roller coasters are far more thrilling than merry go rounds."
We, at Quest, share the authors' view that the formula for winning remains the same whether you are a sportsman, a musician, a salesman, a housewife or a portfolio manager – it is all about practices we follow consistently, the habits we cultivate and above all, how we move on the path with conviction and discipline even in adverse circumstances.
In October 2011, the QuestPMS will be seasoned over four years. These four years have been one of the most turbulent in the history of Quest that spans over two decades. The time between two peaks or two troughs has become shorter. At the level of the indices, the market has done very little: in fact, all the benchmark indices have declined. For the comparable period, QuestPMS has delivered 15.8 per cent annualized compounded returns after all expenses and fees (refer Table A).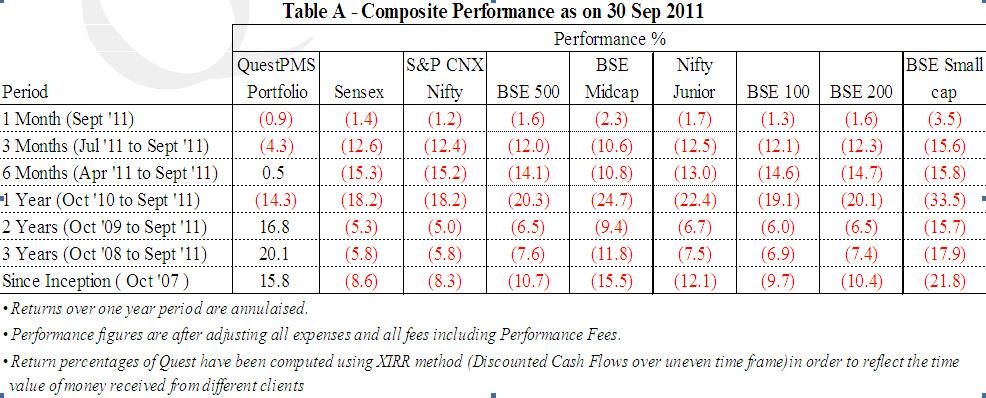 We have analysed the performance of QuestPMS for consistency during good times and bad times. As the table B indicates, while we performed exceedingly well in strong markets of 2009 and 2010 (calendar year basis), the erosion in our portfolio was much lower in 2008 and 2011. The performance in 2010, on the back of a very strong performance in CY2009, reinforced our belief that patience and a disciplined approach are essential to generate absolute returns over a long term.

The consistency in our performance during good and bad times can be attributed to our belief of "stick to your knitting with conviction and discipline".
QuestPMS Fundamentals and Sector Weightage
"When purchasing a stock, seek out the ones with the superior financial positions and avoid the ones with loads of bank debt."- Peter Lynch
The QuestPMS portfolio has invested in 20 midcap companies, whose average turnover is ~Rs.2,100 crore. This is projected to grow at ~21 per cent and, the earnings are projected to grow at 26 per cent over the next two years. The average ROCE is over 28 per cent and the average market capitalization of the companies in the portfolio is ~Rs.3,100 crore. Taken together, the companies in the QuestPMS portfolio are debt free and, on an average have cash that is 22 per cent of the market capitalization. At current prices, the QuestPMS portfolio companies are trading at a weighted average PE multiple of 12.2 times FY12 EPS.
A significant part of the QuestPMS portfolio comprises of companies that operate in non-interest sensitive sectors like agri inputs & agri machinery (27 per cent), railway products & hydro equipments (16 per cent), healthcare & medical devices (15 per cent), speciality chemicals (15 per cent), engineering (10 per cent), defense equipment (8 per cent) and software (4 per cent). We continue with our philosophy of remaining fully invested at all times and, the present cash component is just 5 per cent.
Conclusion
As we mentioned in our August letter, it is both difficult and futile to predict the equity market and the economy. Many market observers expect the Indian market to perform much better from the early part of calendar year 2012. Weak global growth and stable commodity prices are the conditions under which India performs, and this remains the most likely scenario for next few months and early 2012.
This combined with a hope of announcements on some pending reforms, stability in corporate earnings growth and valuations that are near their long term mean, completes the picture.
The depreciation of the rupee by ~11 per cent against US dollar coupled with a fall in stock prices by almost 10 per cent in last two months may act as a catalyst for money flow into India. At some stage, domestic investors will also return to equity markets. A reversal of the interest rate cycle will hopefully aid this asset allocation shift among the locals.
We believe, as fear subsides, the revival in high growth emerging markets should be faster. India is likely to be at the forefront of the upswing in equity markets. Poor governance and government inaction on crucial economic decisions for a prolonged period may become the limiting factor. As in 1992, India will have to demonstrate that it has the ability and willingness for decisive decision making that will boost business confidence and, promote the animal spirits of entrepreneurship and risk taking that is crucial to achieving a consistently high economic growth. With elections due only in 2014, the government could use 2012 as the year to push through key reforms.
To conclude, the Indian market is well poised at the moment. The negative issues seemed to be reflected in the current prices and, there is a strong possibility of positive news flow over the next 3 to 6 months. While equity markets may go through some turmoil in the near term, for a longer term investor this may well be the precise time to put money to work. It's an uncertain environment and, the point of maximum uncertainty. History suggests this almost equals to the point of maximum return.
"We have usually made our best purchases when apprehensions about some macro event were at a peak. Fear is the foe of the faddist, but the friend of the fundamentalist." – Warren Buffett
Our best wishes to you and your family for the festive season ahead.
Warm regards,
Ajay Sheth
September 30, 2011
To know more about Quest and QuestPMS please visit our website: www.questinvest.com
DISCLAIMER: This communication does not constitute or form part of any offer or recommendation or solicitation to subscribe or to deal with QuestPMS. The views expressed by Ajay Sheth, Portfolio Manager QuestPMS are his personal views as on the date mentioned. These should not be construed as investment advice to anyone. This communication may include statements that may constitute forward looking statements. The statements included herein may include statements of future expectations and are based on the author's views, observations and assumptions and involve known and unknown risks and uncertainties that could cause the actual results, performance or events to differ substantially or materially from those expressed or implied in such statements. The author does not undertake to revise the forward looking statements from time to time. No representation, warranty, guarantee or undertaking, express or implied is or will be made. No reliance should be placed on the accuracy, completeness or fairness of the information, estimates, opinions contained in this communication. Before acting on any information contained herein, the readers should make their own assessment of the relevance, accuracy and adequacy of the information and seek appropriate professional advice and, shall be fully responsible for the decisions taken by them.