The Cycle Turns
PM Modi fast tracks government, silently:
Four months since taking office, Prime Minister Narendra Modi has effected significant changes across the spectrum of governance at the Centre, almost always without media attention. His maiden Independence Day speech was confident, substantial and an electrifying one. The fact that he was able to bring so much to the table within a few short months of assuming office is commendable. If this is a blueprint for India, it is certainly a tall order. And it would seem that he will lead by example if his punishing work schedule is anything to go by.
The difference between Modi and his predecessors has already become visible across bureaucracy. The difference is much more than the cosmic effect of coming to work early. What is changing is the pace and quality of decision-making, now that we have a PM who is fully involved in both the initiation of policy as well as monitoring its implementation. Unlike in the past, when ministers operated as mini-PMs, running their fiefs as they saw fit, not bothering about directives or advice from the PMO, these days there is constant monitoring on all ministries.
Experts on the Modi model of governance say that it will take six months for the changes to be visible, and two years before a new structure of governance is completed for igniting the economy towards high growth trajectory. Instead of pursuing transformative reforms, the Modi government has focused on execution and getting the implementation right. While the government has done little policy overhaul, it has instilled confidence in the bureaucracy, and files have started moving again. Administrative rules have been tweeted to expedite projects. The government has focused on delivering infrastructure and cutting red-tape through web-based environment and clearances.
Apart from visible reforms like increased foreign investment in sectors like insurance, defense and railway projects, Modi has ordered the fast tracking of Agricultural reforms to ensure that the farmer and not the farm product Mafia gets the benefit of farm prices. Interestingly, forest and environmental clearances, that were a major block to economic activity during the previous government, are now going online, with clear instructions from the PM that decisions should be taken within 24 hours. The government also proposed a Bill effecting small but significant changes in labour laws. Launching his government's ambitious project to make India a manufacturing hub, Modi promised effective and easy governance to help achieve high growth and creation of jobs.
Even as a section of industry and analysts have started expressing their impatience about the lack of big-bang reforms, the government has quietly plugged away at measures that will make it easier to do business in the country. The implicit strategy seems to be to push for efficiency and productivity in the economy by cleaning up the processes even while it waits for investment momentum to revive.
Giving a thumbs up to the BJP government, Shri Anand Mahindra, Chairman of M & M group says : "PM Modi's focus on setting processes right is more important than big bang reforms. I have always said that more than big bang reforms, it is every day what is happening, changing on the ground that matters."
Recently, S&P lifted India's rating outlook to 'stable' from 'negative' acknowledging efforts by the Modi government to maintain fiscal discipline while reviving the economy and drumming up investment.  Another international risk-rating firm believes India is now the world's best growth-market bet as the risks of doing business in the country have declined with the Modi government having completed its Q1. Modi-style governance bodes well for investors who can expect policy clarity and less red tape. The firm has ranked India at No.1 in terms of economic opportunities for investors.
India is also lucky that Mr Raghuram Rajan is at the helm of RBI. He is a bulwark against populism and an advocate of liberalisation. In a country where nepotism and connections usually determine who occupies high public office, Narendra Modi and Raghuram Rajan represents a refreshing change. Neither of them are insiders in New Delhi. Both are high achievers with undeniably successful track records. To Indian businessmen, they exude a credibility and competence that is rare at the highest levels of India's government.
Modi's been lucky, now to sustain it:
Apart from some quick decisions, Modi is also riding a wave of good luck. Brent Crude has fallen to way below US $100 per barrel after touching $115 barrel earlier this year. This has hugely reduced the oil subsidy, and will reduce the Fertiliser subsidy too (Fertilisers and oil prices are correlated). Apart from oil, even prices of many other commodities including coal, iron ore, metals, grains etc. have fallen sharply too in last 3 months. For the first time in seven years, government may cut diesel prices, a move that could take some of the sting out of inflation. This in turn could allow the RBI to ease up on its interest-rate stance boosting revival prospects. This good luck will also help government achieve its fiscal targets. Cheaper oil, coal, gold and silver will help check the trade deficit too.
Global fund-flow continues, domestic buying too picks up:
Global flows have continued largely due to expectations of better economic performance in the coming years. With oil, coal and other commodity prices softening sharply, Indian corporates are expected to do exceedingly well in coming years. Also, India is doing extremely well when compared to other emerging markets like Russia, Brazil, Mexico, China, Thailand, Indonesia etc.
Local flows have also come as equities have massively out-performed fixed income, gold and real estate in last 12 to 18 months. We expect flows to continue from the domestic side as equity is massively under-allocated by Indian investors. Markets are supported by improving macroeconomic indicators – Inflation is moderating, growth is improving, currency is stable, oil is softening and sentiments are improving.
Everyone wants to wait for the correction to enter into equity market. It is unlikely that markets will be kind to give an opportunity to waiting investors, to enter at significantly lower levels, from here onwards.
India is on a Multi-year bull run supported by fundamentals as well as flows. Animal spirits of investors are soaring, everything is working for India. We have a structural potential via the government's mandate, we have a global rally which we don't think we can under-estimate and we have a cyclical turn, so it is a Goldilocks-like situation. It's a situation of a confluence of a lot of favourable factors.
What could derail Modi juggernaut ?
Modi government must learn from Chidambaram that confidence is fickle, and can collapse in microseconds. Much more is needed to sustain rapid growth. Modi's policy increments and administrative improvements will carry him some distance, but no further. Without major policy changes, the deep structural problems of the economy will ultimately re-assert themselves. At that point, his luck may run out too.
Further, the monsoon has been subnormal, so food inflation remains high. The unfavorable trend of by-election result may maintain caution on the forthcoming state assembly elections. At some point in 2015 the US will start raising interest rates, and dollars could flood out of all emerging markets including India.
Also, some kind of threat for the market may emerge from deluge of fresh papers worth over Rs.2 Lakh crore within next year as the government looks to trim stakes in its PSUs and private firms aim to raise fresh capital. We are not sure whether the market would be able to absorb the extent of share sales amid a slowdown in FII inflows. The tighter monetary policy in the US may also slow FII flows into the country.
QuestPMS Performance:
QuestPMS performed reasonably well during the quarter July to September, 2014. The composite performance tables below give our performance vis-a-vis smallcap, midcap and largecap indices over different time periods, both on XIRR method and in absolute terms.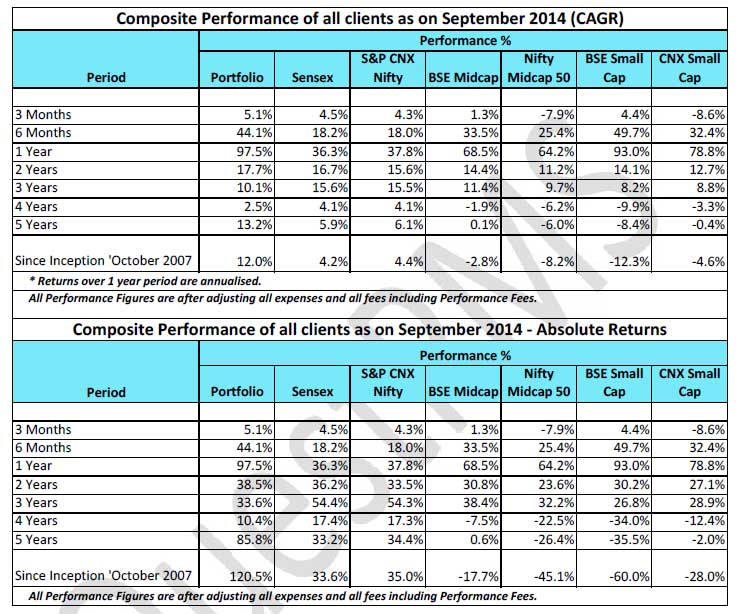 Our performance has been extremely good specifically when compared to performance of small and midcap indices. In absolute terms, while all small and midcap indices have given negative returns, QuestPMS has more than doubled our client's initial investments after all expenses and fees. Also, we have a strong belief that our concentrated portfolio approach has assisted us in providing significant outperformance.
The following quote of Warren Buffett strengthens our belief on concentrated portfolio approach – "We believe that a policy of portfolio concentration may well decrease risk if it raises, as it should, both the intensity with which an investor thinks about a business and the comfort-level he must feel with its economic characteristics before buying into it." (1993 Berkshire Hathaway Annual shareholders letter)
In fact, our overall performance at individual level is much better, as overall PMS performance got negatively impacted due to untimely redemption (and booking of losses) during depressed period, by few of our clients.
Infrastructure Focus:
Looking at the strength of the current portfolio, we expect that it should appreciate at a decent level in next 3 to 4 years. We expect infrastructure which has not done well over last 4 to 5 years to do extremely well in next 3 to 4 years. Currently, infrastructure, engineering and related companies comprises almost 28 per cent of our portfolio.
India to become next global factory as China loses edge:
India is set to become the next global factory as China is losing the competitiveness very rapidly. With Indian Rupee depreciating almost by 40 per cent over last 3 years vis-a-vis Chinese Yuan, Chinese businesses are losing their competitiveness for exports. Labour costs are also rising in China. This will help Indian companies to increase their economies of scale by increasing capacity utilization. We hold almost 28 per cent in quality world class manufacturing companies in our portfolio.
Conclusion – Bull market has just begun:
The bull market has just begun and corrections may happen. But, a confluence of three confidences – consumer confidence, corporate confidence and investor confidence – could lead to a spurt in the market rather than a correction. The market uncannily looks like what we saw between 2003 and 2007. At that point in time as well, the markets started exactly in a similar fashion, everyone thought that the markets are looking expensive and there was no looking back for almost four years.
While market has been in bull phase for a while, what is good and healthy is that market is punishing the companies which have not been moving in a right direction. E.g. Companies like DLF, JP Associates, Kingfisher, Bhushan steels etc are punished and punished severely. Unlike in the past, this rising tide is not lifting all boats. Investors are sharply discriminating against problem businesses and thus, only good businesses are getting more attention and more resources.
To re-iterate, the bull market has just begun – it's a feel good India story, a structural bull run and the beginning of a new era.
Let me also take this opportunity to heartily welcome to QuestPMS family, our new MULTI investors.
Ajay Sheth
September 30, 2014.
DISCLAIMER: This communication does not constitute or form part of any offer or recommendation or solicitation to subscribe or to deal with QuestPMS. The views expressed by Ajay Sheth, Portfolio Manager QuestPMS are his personal views as on the date mentioned. These should not be construed as investment advice to anyone. This communication may include statements that may constitute forward looking statements. The statements included herein may include statements of future expectations and, are based on the author's views, observations and assumptions and involve known and unknown risks and uncertainties that could cause the actual results, performance or events to differ substantially or materially from those expressed or implied in such statements. The author does not undertake to revise the forward looking statements from time to time. No representation, warranty, guarantee or undertaking, express or implied is or will be made. No reliance should be placed on the accuracy, completeness or fairness of the information, estimates, opinions contained in this communication. Before acting on any information contained herein, the readers should make their own assessment of the relevance, accuracy and adequacy of the information and seek appropriate professional advice and, shall be fully responsible for the decisions taken by them.