To compound value for our investors and thereby organically grow to reach the Top 5 pure play PMS players in India within the coming decade and do this while achieving consistency in generating superior returns.
To institutionalise our 30+ years of experience in navigating the complex maze of Indian Equities market and creating a framework for accelerated growth whilst retaining our culture of process driven outperformance.
Customer focus
All our internal efforts are focused on creating sustainable long-term value for our customers. We strive to live a 'customer first' philosophy in all our actions, both internal and external.

Giving back to society
The larger scope of our focus is to make society a better place for its marginalised segment. Through Quest Foundation we aspire & strive to humbly serve them by way of making an impact through a judicious mix of activities encompassing education, healthcare and direct financial assistance.

Long term thinking
Our actions are oriented towards generating superior and sustainable long-term outperformance for all our clients. We believe in the power of long-term compounding. opportunity to grow investments in a significant manner.

Process driven culture
Our operating philosophy hinges on creating a process driven culture which helps form a meticulous framework that acts as a beacon of light and guides our stock picking in the turbulent waters of Indian equity markets.

Integrity & consistency
Integrity in both actions & spirit on a consistent basis is the main contributor towards being able to be consistent in our investment process & generating superior returns on a long term basis.

Trust through transparency
We strive towards achieving the highest standards of trust, and look towards furthering the trust our clients have imposed in us over the past 3 decades. For the same we believe in honest communication and encourage dialogue with all key stakeholders.

Quality first

Process orientation
Passionate
Meticulous

Collaborative
Humane

Honest
Long haul play
01.
Started off in research in year 1987.
02.
Ventured in PMS in Oct 2007.
03.
100 Cr AUM hit in April 2010 and 100 client in FY10.
04.
500 clients in FY 15.
05.
500 Cr AUM hit in July 2016.
06.
1000 Cr AUM hit in June 2017 and 1000 clients in FY 17.
07.
Current AUM of app Rs 1300 Cr.
Started with bespoke equity research catering to FII, MF and Institutions
Launched our first PMS offering, Quest Flagship PMS scheme.
Our first 100 clients onboarded and our AUM crossed INR 100 Cr
Quest family grows to 500+ investors.
We crossed the 1000 investors mark and also INR 1000 Cr AUM.
Got our AIF license and launched our AIF fund for select clients.
Gearing up for our next leg of growth with new expanded team across functions.
Our investment team's collective experience spans over 100 years in the Indian equity markets and we bring on the table a diverse mix of educational background and experiences.
Our founding members are Mr Ajay Sheth & Mr Bharat Sheth. Mr Ajay Sheth has over 40 years of experience including over 30 years in the investment industry. Mr Bharat Sheth has around 28 years of experience in capital markets specialising in midcaps and small-caps and identifying them early on in their cycle.
Our core investment team also includes Mr Aniruddha Sarkar, who is the Chief Investment Officer & Portfolio Manager. Other key personnel include Mr Hiten Sampat as the Chief Compliance officer and Mr Shankar Gopalan as our Head of Sales and Distribution. The core team is assisted by an experienced team of four analysts who collectively track, monitor and evaluate various portfolio and non-portfolio companies.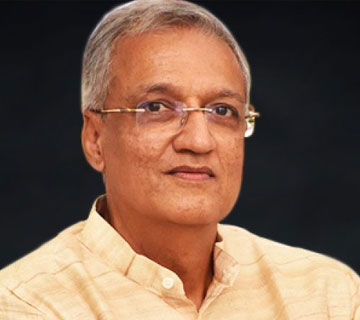 Mr. Ajay Sheth, a commerce graduate and cost accountant started off with bespoke equity...