Time to capitalise on the momentum
There is celebration all around: the New Year festivities have been followed by sharp upswing in equity markets across the globe, taking many investors by surprise. Liquidity has been the key driver both for global markets as well as for the Indian markets. During December 2011, the European Central Bank provided almost US$650bn of low cost funds to the European banks and, has indicated that a similar amount may be available in February 2012. In the US, opinion is gathering momentum that the Federal Reserve may soon announce another round of quantitative easing. Investors may have taken some time to digest the impact of this sudden increase in liquidity.
The surge in global liquidity spilled over into India markets. Bargain seeking FIIs bought over Rs.10,000 crores of beaten-down Indian equities during January 2012 – the highest ever in the first month of the New Year. To put this in perspective, the previous highest FII inflow in the month of January was Rs.4,045 crores – in 2001. The selective buying by FIIs is being interpreted by some as short term positioning. But one cannot ignore the small steps taken by Indian policy makers that point to the sense of urgency within the government to formulate measures to boost investment activity:
Appointment of Mr. Pulok Chatterjee, an IAS officer and an Executive Director at World Bank until September 2011 as Principal Secretary in the PMO's office to speed up decision making. He enjoys political goodwill and has a good grasp on economic issues. Mr Chatterjee is also likely to be a single point coordinator between various ministries to clear roadblocks on various issues that are currently in the deep freeze. To name a few: the Land Acquisition Bill and recommendation on infrastructure sector to boost growth.
A recent reduction in cash reserve ratio by the RBI with the intention of increasing liquidity in the system.
The government seems to be on a mission to restore confidence amongst business owners, prompting them to start investing for tomorrow's growth that is crucial to fight inflation.
The strong rebound that has wiped out half of CY2011 losses, has definitely raised a question: Is the worst over for the equity markets? Not necessarily. The economic uncertainties are compounded by political compulsions across the globe. While Indian political leaders may have been justifiably criticised for indecisiveness and poor governance that has resulted in a loss of investment momentum, leaders in Europe and USA have not achieved anything better with their many promises. They have dithered over taking decisions that could inspire confidence amongst their constituents and, are instead looking for a quick fix solution without addressing long term structural issues.
Given the difficult global economic environment and weak political leadership across the world, investment in equities is likely to remain fraught with risks. But it is also an opportune time for placing bets. In a recent interview Joe Rosenberg, who has been investing for the Tisch family and one of the most knowledgeable and outspoken investors on Wall Street for almost 50 years, said in an interview last month that "You can't have good news and cheap stocks at the same time".
In the Indian context, the continued strong FII interest in Indian equities is a clear indicator that the India Story has not played out fully. The India story is based on the vibrancy of domestic consumption and growing demand for goods and services. This is clearly going to be driver of corporate performance over the next decade. The table extracted from a recent report by Bank of America Merrill Lynch sums it succinctly: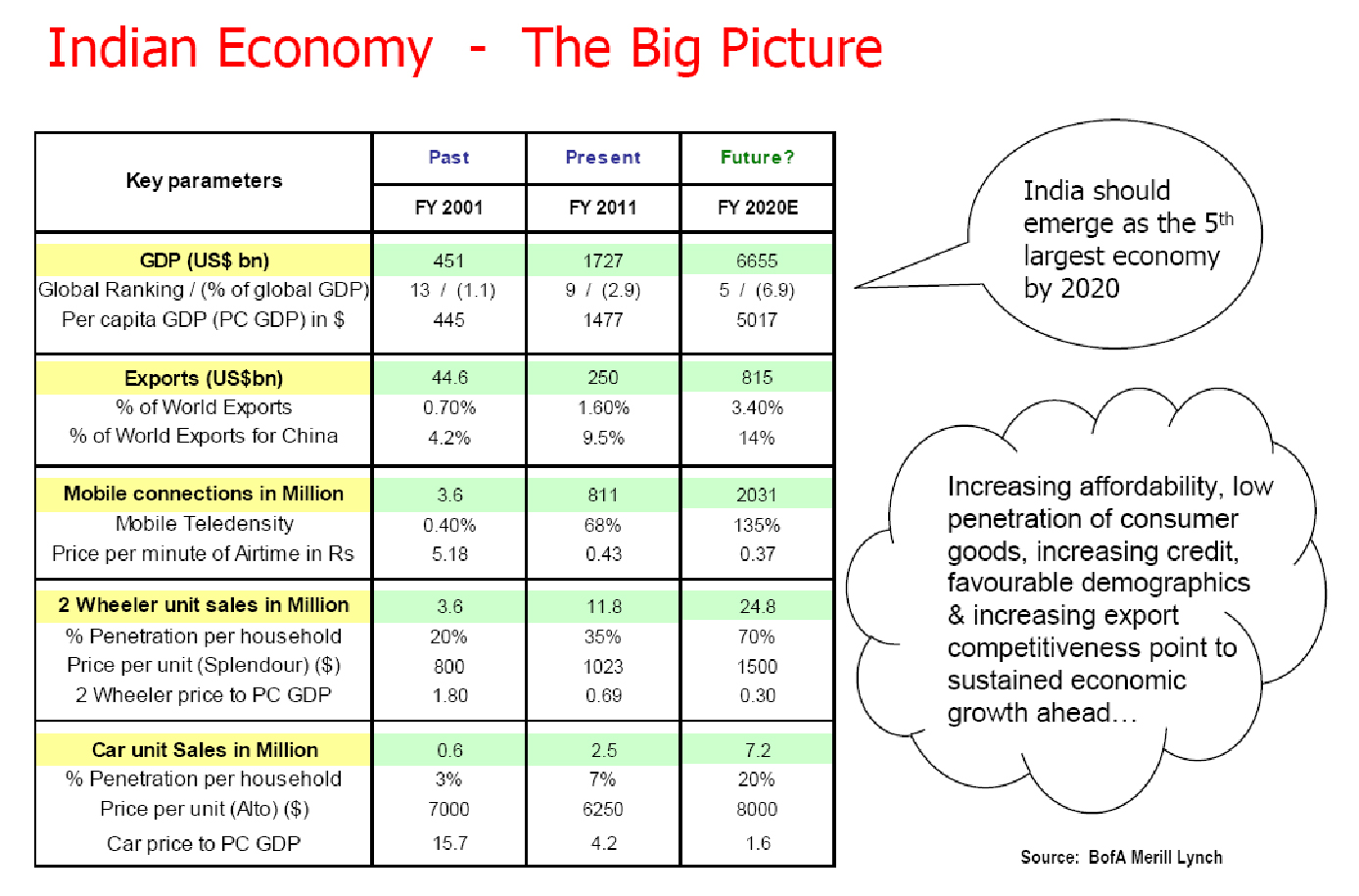 But as in any long term story there are risks.
What are the risks?
The crisis in the Eurozone will worsen and, to improve capital adequacy, European banks will be forced to cut back on exposures in emerging markets such as India. This may increase cost of funding for Indian companies, straining corporate profitability.
Events connected to politics will continue to have an impact on the stock markets. Russell Napier, a strategist at CLSA a leading Hongkong-based brokerage house, commented: "The bigger the politics quotient, the more-volatile the markets. It isn't going to get any better in 2012."
The economic news from India may continue to remain depressing – fiscal deficit for the year ending March 2012 may be much higher than original budgeted. Complacency on part of our policy makers to interpret the sharp turnaround in FIIs investment as a sign that "all is well with India."
Traditional investment styles may not work in the short run.
The recent appreciation of the INR may be reversed.
Do we need to change?
It is clear that the government will have to take steps to keep its fiscal house in order and announce some game changing reforms. That the government is seized of this is clear from the Prime Minister's statement in the New Year: "We must not be too downcast. We must remember that downturns are followed by upturns. Indeed, they are often a test of our ability to respond to new challenges."
Historically, every crisis has resulted in policy action that has long term benefits: opening up of the economy after the BoP crisis in 1992; an increase in diesel prices was driven by burgeoning subsidy bill; nutrient based subsidy scheme to restrict the outgo on fertilizer subsidies. The result from some of these may have been different from expected due to external factors.
In the present context, there are signs that the policy makers have woken up to the fact that high fiscal deficit and tight money policy is hurting growth. The recent announcement in the credit policy of injecting liquidity in the system may well be the first of the steps. The budget that is to be presented post the assembly elections is likely to give a clear indication of the government's seriousness to deal with the growth issue.
As far QuestPMS is concerned, buying stocks based on fundamental analysis when they are available at absolute low prices and are mispriced has historically been successful. The hidden value is released through increased cash flow, dividends and consequently expansion in valuation over the long run. But in the short run, this runs the risk of an underperformance in relation to benchmark indices.
Performance of QuestPMS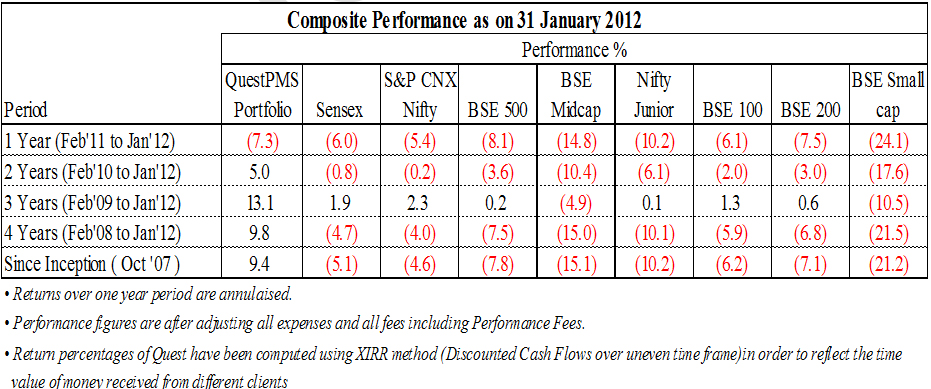 There was a feeling that the markets had corrected and, so there is a buying opportunity. But as I have said earlier, we do not buy markets. We only buy stocks and, only those in which we find value. Despite holding cash, we did not rush in to buy. Any such step would have meant compromising on our disciplined investment process, something that is best avoided. Some of the companies that we own, and are convinced that these are undervalued, have not seen any trigger for immediate increase in valuation. Because QuestPMS takes a long term view of performance of individual companies in the mid cap space, we remain unfazed by the short term under performance.
Where does it lead?
The strong performance of the market in Jan 2012 is both good news as well as bad news. The good news is that participation by FIIs has increased – FIIs have bought almost US$2 bn of Indian equities. This compared to less than US$ 1bn outflow during 2011. The bad news is that the exuberance has generated a lot of froth. I believe it is better for the froth to settle down that will enable us to clearly see the contents and quality of the substance generating the froth.
"You can wait for opportunities that fit your criteria and if you don't find them, patiently wait. Deciding not to panic is still a decision." – Seth Klarman
It is clear to all of us that risk, both internal as well external to India can impact corporate performance. On the other hand, as believers in the India Story, there is a compelling argument to take advantage of a fall in valuations. In our opinion, the present situation calls for a balanced approach – manage portfolios to create long term value for our investors, but with caution. Rather than be overconfident and rush in to buy, we prefer not to deviate from the disciplined approach that we have followed to manage our clients' investments. As a consequence, we continue to hold reasonable cash to take advantage of any bargains that the team identifies. There is enough historical evidence to suggest that a disciplined approach to identify and, buying stocks when they are mispriced has been successful.
We will continue to strive for your interest in QuestPMS.
Warm regards,
Ajay Sheth
January 31, 2012
To know more about Quest and QuestPMS please visit our website: www.questinvest.com
DISCLAIMER: This communication does not constitute or form part of any offer or recommendation or solicitation to subscribe or to deal with QuestPMS. The views expressed by Ajay Sheth, Portfolio Manager QuestPMS are his personal views as on the date mentioned. These should not be construed as investment advice to anyone. This communication may include statements that may constitute forward looking statements. The statements included herein may include statements of future expectations and are based on the author's views, observations and assumptions and involve known and unknown risks and uncertainties that could cause the actual results, performance or events to differ substantially or materially from those expressed or implied in such statements. The author does not undertake to revise the forward looking statements from time to time. No representation, warranty, guarantee or undertaking, express or implied is or will be made. No reliance should be placed on the accuracy, completeness or fairness of the information, estimates, opinions contained in this communication. Before acting on any information contained herein, the readers should make their own assessment of the relevance, accuracy and adequacy of the information and seek appropriate professional advice and, shall be fully responsible for the decisions taken by them.