Significant stock investing opportunities in broader market
Most indices hit all time highs on January 8, 2008. More than five years have since passed. Sales and profits of most companies have nearly doubled during this period. And yet all indices are below the 2008 level. The performance of indices of large cap, midcap and small cap stocks during this period is given below:

While the large cap indices have fallen by just around 7 percent over this period, small & midcap indices have fallen between 39 and 58 percent respectively. This is mainly due to the fact that in the last three years, FIIs have invested nearly Rs 300,000 crore in Indian stocks (read large cap stocks), while domestic investors including mutual funds have sold mainly Small & Midcap stocks worth more than Rs 103,000 crore. It is worth noting that FII inflows have been very concentrated – from very few FIIs and into specifically large-cap stocks.
To aggravate the situation, during this same period, all other asset classes like gold, silver, real estate, commodities and debt funds – have given decent returns. A question then comes to one's mind: Should one invest in equities at all? And within equities, should one ever invest into small & midcap stocks?
Asset classes have their own cycles:
Most asset prices fluctuate based on their inherent fundamental value and investors' perception regarding future value that these assets might fetch. That's why asset prices, like a pendulum, swing from one extreme to the other. Bubbles are formed in the process, and markets also crash from time to time. We have seen such major bull runs and bear phases in stock markets and similar extreme phases in other asset classes like real estate, gold and commodities.
Extreme euphoria in any asset class suggests an end of the bull phase and extreme pessimism suggests end of a bear phase and beginning of a bull phase. This can best be summarised with a quote from Sir John Templeton: "Bull markets are born on pessimism, grown on skepticism, matures on optimism and die on euphoria." In our view, we are currently somewhere at the end of pessimism stage and beginning of skepticism stage.
Most assets like gold, real estate, commodities and oil have seen their peak in the last few months and have started descending.
Impact of Fed withdrawal:
The perception that the US Fed will likely start to ease out its QE program later this year has led to a sharp reaction across asset classes. With FII selling of nearly US$ 7.5 billion, the Indian Rupee plunged to a record low. While tighter liquidity could have some impact on capital flows into India, we feel the market has over reacted. The lower rupee would make imports costlier and increase the competitiveness of exports.
An additional comfort from India's point of view is that commodity prices have plunged across the board not only due to perceived Fed action, but also as a result of a sharp slowdown in China. The fall has been so sharp and ferocious that despite nearly five per cent rupee depreciation in the month of June, its benefit to Indian commodity consuming companies will still be good. Also, once easy money dries up, the available resources will shift from speculating assets like commodities, real estate, gold etc to building real assets. This will augur very well for economic activities.
As a corollary, during June 2013, we have seen FIIs withdrawing funds from equities (Rs 11,000 crore) and debt paper (Rs 33,000 crore), while domestic institutions (DIIs), mutual funds (MFs), etc., were net buyers of equities to the extent of Rs 8,400 crore. This is the most welcome change in the trend of last four years during which, only FIIs were net buyers, whereas DIIs / MFs were net sellers in equities. This trend of domestic investors returning back into the equities would be with much more broader participation, than what we witnessed over the last few years of FIIs remaining active only in a few large cap stocks.
QuestPMS performance:
QuestPMS performance since its inception in October 2007 vis-à-vis various large cap, small cap and midcap indices is given in the following table. You will observe that despite investing mainly in small & midcap stocks, not only have we performed better than large cap indices over this period, we have also given positive return of 4.4 percent on an annualized basis after all expenses and fees, whereas all small and midcap indices have given negative return over the same period. This speaks well for the stocks that we have invested in.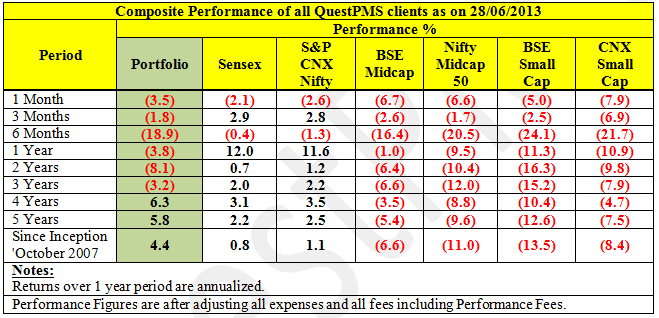 We have invested in companies with strong fundamentals and honest & competent managements running good quality businesses. We expect these companies to do extremely well in coming years. Ironically, their share prices are falling due to continuous selling by domestic investors. We strongly believe that it is about time when huge valuation divergence between large-cap and small & mid-cap stocks will force smart investors to have a re-look at their investment strategies.
A few companies in our portfolio are currently trading at their 3 years' cash earnings level, a few are giving dividend yield of 3 to 5 per cent, and a few are traded at market capitalization which is equal to less than 10 to 15 per cent of their annualized sales.
If you wish to get a synopsis of a few companies in our portfolio, you may request through your Relationship Manager and the same will be provided immediately.
It is also important to note that almost 50 per cent of companies in our portfolio in sectors like Information Technology, Pharmaceuticals, International Project Management and Specialty Chemicals derive more than half of their turnover from exports. These companies should benefit tremendously in the coming quarters due to the sharp depreciation in rupee.
With the worst behind us, equities to be the asset class:
In its recently released (April 2013) "World Economic Outlook", IMF forecasts that overall commodity prices will decline not only in 2013 (from their current low levels), but also in 2014. Strengthening US Dollar and Chinese meltdown have driven down prices of global commodities further, and that will bode extremely well for Indian economy.
We believe that while revenue growth of Indian companies may still be at some multiple of GDP growth, their profits growth will be higher than revenue growth. We have gone through a near 5 per cent margin compression cycle, and it appears to be coming to an end. A sustained fall in commodity prices (which will take care of adverse impact of rupee depreciation), would have wider positive repercussions for Indian economy and profitability of Indian corporates. With commodity prices coming down sharply, inflation and interest rates should also start following suit, albeit with some lag effect. This will make a strong case for investing in equities.
The bullishness of foreigners (when compared to skepticism of domestic investors) over the potential that India carries, gets reflected in their aggressive buying trend, as also from increasing equity stake by foreign MNCs. While domestic corporates are skeptical about initiating major capex, some MNCs like Hindustan Unilever, GlaxoSmithKline, Ikea, Diageo (into UB), Ethiad (into Jet), Qatar (into Bharati Airtel), S&P (into Crisil) etc., have announced US $ 10 billion (Rs 58,000 crore) worth of investment either to increase their equity in their existing subsidiaries or buy new equity. Commitment of such large funds represents a vote of confidence in the growth prospects of India, which enjoys relatively better risk-reward matrix than elsewhere in the world, giving Indian equities a high probability to outshine.
A stage is getting set by softer trend in commodity prices, lower inflation and thereby bias towards lower interest rates to propel upswing in corporate profitability; whereas with prices of gold, commodities, real estate and other asset classes coming down; we expect equities to be "the asset class" for the next few years, particularly small & midcap stocks, which are available at very cheap valuations.
Is this the time to write off Small & Midcap stocks?
As mentioned earlier, small & midcap stocks have been languishing since January 2008, with several such trading at a throw away prices compared to their intrinsic worth and future earning potential. In our view, this is a great time for bottom-fishing. The popular stock market adage says "Buy low and Sell high". When bears are ruling the trading pits, exploring and investing into right stocks could mean owning a treasure chest.
A recent study (May 2013) by CRISIL on the returns and volatility of large-cap and mid-cap equities revealed an interesting trend: mid-cap equities provided 23 per cent annualised returns over the 10 year period ending March 2013, while CNX Nifty Index returned 19 per cent, although in last 5 years from Jan 2008 to March 2013, while CNX Nifty appreciated by 3.7 per cent annualised, Nifty Midcap 50 declined by an annualized 4%. Over different periods of analysis, the mid-cap index has been less volatile than CNX Nifty.
What can go wrong in short run?
Long term India story looks quite promising. However, in the short run it may hit a few hurdles:
– Some near-term changes in global markets from Fed actions to taper QE could possibly have implications for Indian Rupee. India remains vulnerable due to high current account deficit. It can destabilize currencies, sink stock prices and create headache for the policy makers already grappling with faltering growth. However, ill effects of rupee depreciation, to a large extent, will be mitigated by higher exports, and higher FII / FDI inflows as global inflation and interest rate continue to be low. There are indications that some FIIs are now poised to bring in larger funds.
– Also, if rupee goes down, government will be forced to announce fresh measures to make Foreign Direct Investment easier to bring in more funds into the economy.
– Political risk in an election year particularly if it results in a fractured verdict. However, each one of the last 20 odd state elections has resulted in a firm, strong and absolute mandate for the incoming government, with record turn outs. Also across all elections, common issues have been development, governance and growth. One of the possible explanations for this is that since 2009, 12 crore young and ambitious voters have been added every 5 years who have high aspirations. They do not want freebies, they want growth. And lastly,
– If June – September monsoon turns out to be less than normal, it can have some negative impact on Indian economy. However, it is too early to speculate.
Conclusion:
Through 2012 and 2013, FIIs have been net sellers in only three of the past 18 months, whereas Domestic Investors have been net buyers in only three of those months. The major stock market indices have risen because FII buying has dwarfed domestic selling in terms of scale. The pattern has also led to a dichotomy between the behavior of large stocks and small & midcap stocks. This is because FIIs do not tend to spend time and take trouble to research or invest in stocks that don't have certain threshold market capitalization and basic float quantity. Since domestic investors have been sellers of relatively smaller stocks, these have vastly underperformed the large ones.
As explained earlier, we expect considerably higher corporate earnings in FY 14 aided by sharp fall in commodities prices. And there aren't many countries apart from India, where you can actually see earnings trajectory turn-up in the next 12 months. The valuations of small & midsized companies look extremely attractive and as a result, one can expect more than decent returns over next 12 to 18 months.
Most of the time, like a pendulum, we swing from one end to the other. For us, India is shining or India is whining. Let us be honest, India is never as good as it looks and it is never as bad as it seems. And the same logic holds good for our investment in stocks.
Warm regards,
Ajay Sheth
June 28, 2013
To know more about Quest and QuestPMS please visit our website: www.questinvest.com
DISCLAIMER: This communication does not constitute or form part of any offer or recommendation or solicitation to subscribe or to deal with QuestPMS. The views expressed by Ajay Sheth, Portfolio Manager QuestPMS are his personal views as on the date mentioned. These should not be construed as investment advice to anyone. This communication may include statements that may constitute forward looking statements. The statements included herein may include statements of future expectations and are based on the author's views, observations and assumptions and involve known and unknown risks and uncertainties that could cause the actual results, performance or events to differ substantially or materially from those expressed or implied in such statements. The author does not undertake to revise the forward looking statements from time to time. No representation, warranty, guarantee or undertaking, express or implied is or will be made. No reliance should be placed on the accuracy, completeness or fairness of the information, estimates, opinions contained in this communication. Before acting on any information contained herein, the readers should make their own assessment of the relevance, accuracy and adequacy of the information and seek appropriate professional advice and, shall be fully responsible for the decisions taken by them.