Opportunities abound amid extreme uncertainty
Market behaviour
The quarter ended March 2013 witnessed unprecedented value erosion in small and midcap stocks. While the Sensex fell by 3 per cent in the quarter, BSE midcap and BSE smallcap indices crashed 13.7 per cent and 21.4 per cent respectively. Similarly, Nifty slipped by 3.8 per cent, while Nifty midcap and CNX smallcap indices slumped 18.4 per cent and 15.5 per cent respectively. As prices of midcap stocks fell because of profit-taking and operator activity, financiers began selling not just the stocks affected by market activity, but also other stocks too, which had a cascading effect. In February alone, more than a fifth of BSE 500 stocks fell by over 20 per cent. It is quite evident that small and midcap segment has under-performed largecap stocks by a considerable margin.
Largecap stocks have outperformed over the past 15 months on sustained FII buying. FIIs have been net buyers of nearly $ 35 billion of Indian equities mostly in largecap stocks. In fact, FIIs have cut their holdings in midcap companies to 11% of the market cap for such companies — the lowest in the past five years, while raising their holdings in more liquid benchmark stocks, making it 22% of the market cap of the top 50 companies. The benchmark MSCI (Morgan Stanley Capital International) stocks now constitute 83% of overall FII portfolio against 75% a year ago.
Domestic Institutional Investors (DIIs), Insurance Companies, HNIs and Retail Investors (together, the largest investor constituent of small and mid cap stocks) were net sellers on a sustained basis. HNIs and Retail Investors began investing their surplus funds into real estate, gold, commodities or debt funds. LIC too was a large seller to create liquidity to invest in PSU divestment by the government. LIC normally tends to invest in weak markets. This has resulted in sharp declines in small and mid caps indices even as Sensex / Nifty indices kept rising.
It is to be borne in mind that in an uncertain economic environment, generally small and midcap companies under-perform largecap companies. However, the converse is also true. The resultant divergent performance of Sensex vis-à-vis BSE Small Cap & Mid Cap indices in the backdrop of economic performance in the last decade is given in the following graph: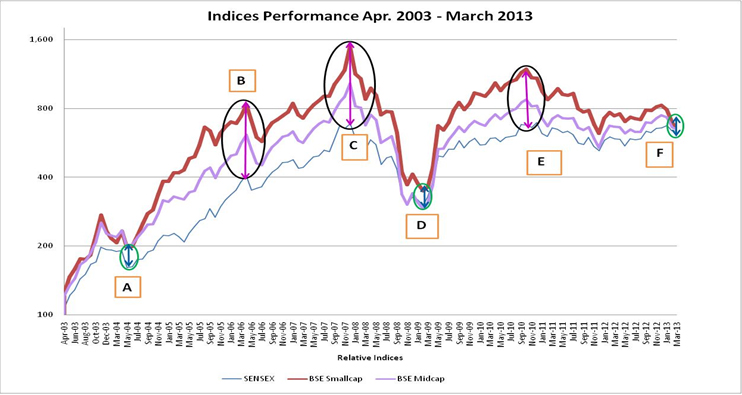 You will observe from this graph that performance of small and mid cap indices during the last decade has remained above Sensex when Indian economy did well as indicated in periods "B", "C" and "E", whereas during the downtrend in economic performance, the gap between small and mid cap indices vis-à-vis Sensex narrows down to almost ZERO level as shown in periods "A", "D" and "F" in the above graph. We are currently at the trough of economic activity "F", and we have reasons to believe that recovery from here-on is not far away.
Time is ripe for the "Great Rotation" paving way for domestic flows to turn to equities:
Just as farmers rotate crops to maximize harvests from their fields, the same principle could apply in 2013 to the financial markets. Under the present economic and market scenario, we expect that there will be two types of rotations in investments:
– One outcome could be what strategists describe as "great rotation" – a significant acceleration in flows out of debt funds, real estate and gold into equities. The developed countries have kept interest rates deliberately low, to pump prime their economies, as a result of which debt assets are priced high, with little or no scope for further appreciation. Equities will become more attractive because these are geared to growth and will offer higher returns than from other asset classes in coming years. Many fund managers expect the return of domestic investors into equities (read small and midcaps) in coming months, as scope of appreciation looks limited in real estate, gold and commodities. RBI has reduced repo and reverse repo rates by 0.25 per cent on March 19, 2013; and if softer trend in inflation continues, there could be more such monetary easing in coming quarters. Such supportive monetary actions could facilitate infrastructural and industrial revival.
– The other one will be what HSBC Bank has identified "rotation from large cap to midcaps" as one of the investment themes for 2013. The valuation gap between small & midcaps and large caps have widened considerably in last 18 months as investors have preferred large caps in an uncertain environment. Value hunters, more particularly, domestic investors would soon pick up the trail and start investing into small and midcap stocks.
While India does face many cyclical and structural problems, these are unlikely to worsen from here on. The key question for investors is "what could change for better or for worse"? And it is here that we find some grounds for optimism and feel that some signs of improvement could become visible over the next 18 months.
Consider that:
– At the start of the each of the last four decades, India has undergone some form of fiscal crisis. Each period led to significant reforms and policy changes that propelled economic growth. The cycle of reform, then growth, then complacency, then crisis leading to reform, could well repeat itself this time around. History suggests that Indian governments initiate reforms only in a crisis situation.
– Even if there is little reform, there is likely to be a relatively tight rein on spending given threats of rating agency downgrades, which will keep government in check.
– Can Indian politics get much worse from here? It could certainly get more interesting given there's a distinct possibility of a new government coming in. BJP stands a good chance of defeating the incumbent Congress Party in the next election, particularly if it is led by reformist Narendra Modi.
– All political parties, including the ruling UPA government, appear to have belatedly recognized that good governance, leading to good economic growth, is returning State Governments to power. The electorate is sending a clear message that they do not want handouts and sops, but growth and jobs. The recent Union Budget, widely expected to be a populist one during a pre-election year, wasn't.
What can go wrong?
While we believe, things will improve over the next 18 months; a few things can go wrong as enumerated below:
– India's finances can go for a toss in an election year with sharp acceleration in fiscal and trade deficit. However, the union budget announced in Feb 2013 has been less populist.
– Hung Parliament giving no clear verdict to either Congress or BJP.
– India's capital investment and infrastructure spending does not take off resulting in deceleration in growth rate to around 5 per cent for next 2 years.
– Indian economy suffers from stagflation, a state of high inflation, and poor growth rate.
– The global liquidity tide turns leading to abrupt aggressive selling by FIIs.
However, looking at the current depressed scenario in small and midcap segment, we feel most negatives are currently discounted. In fact, we believe that with a higher base, inflation and interest rate will come off in coming quarters paving way for higher capital and infrastructure spending. We also believe that introduction of GST will propel higher GDP growth in coming years. We strongly believe that the worst is over for the Indian economy, with a caveat that higher growth is contingent on government following through with key policy actions to address structural flaws.
Performance of QuestPMS:
The current performance of QuestPMS has not been to our satisfaction particularly when compared to large stock indices like Sensex or Nifty. The performance has been benign over last 1½ to 2 years as during this period, while FIIs have been aggressive investors in Indian large cap stocks, domestic investors including domestic institutions have been equally aggressive sellers in midcap and small cap stocks. And this is quite evident from the divergent performance of large cap indices vis-à-vis midcap and small cap indices over last 2 years. The composite performance table of QuestPMS alongside indicates the same: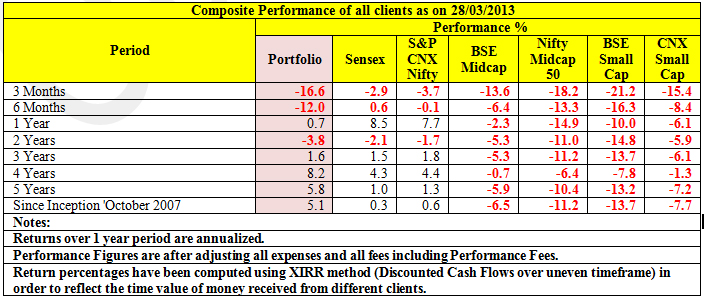 As you know, we at QuestPMS, invest mainly in small and midcap stocks with an investment horizon of 3 to 4 years. It has been our experience that a prudent investment in small and midcap stocks always pays over a longer period of time with high level of capital protection (high margin of safety despite temporary blips due to price erosion on account of thin selling in case of redemptions). In fact, you will agree that most large cap stocks are highly researched. Hence, a prudent way of making money lies in under-researched small and midcap stocks.
However, small and midcap stocks suffer from two limitations: 1) these suffer from low liquidity leading to notional price erosion even on a small selling, and 2) these under-perform as compared to Sensex or Nifty in a momentum market where FIIs are major buyers.
Also, temporary blips in our performance have also been due to two factors: 1) in last two years, we have gone wrong in three investment decisions affecting our overall performance. This was explained in our earlier newsletters, and 2) in last 12 months we have taken aggressive bet on infrastructure service sector, in which we expect to do extremely well over next 2 to 3 years (explained in detail below). However, it will take a while before we see tremendous appreciation from our infra investments.
As a result, our performance in the short run might not look very appealing when compared to large cap indices due to continued FII investment in large cap stocks or domestic investors selling in small and midcap stocks or some redemption selling by us on account of our own clients; whereas in the medium to long run, our performance will reflect our ability to identify quality stocks at right prices.
Current composition of QuestPMS:
On a composite basis, 26 percent of PMS is invested in Infrastructure, mainly during last 12 months. 18 percent is in Healthcare, 17 percent in Software and 13 percent in Specialty Chemicals. 5 percent each is in Agri Inputs, Banking & Finance and Power Utility; and 3 percent in Media.
In order to explain our viewpoint as to why we believe in the uptick in the portfolio, we give just one example of our investment made in infrastructure contracting companies (EPC) during last few months. The share prices of most infra contracting companies declined further from already low levels (at which we had bought these shares in the last few months) due to their performance getting impacted with delays in securing clearances, interest rates sapping their profitability and last mile hurdles while executing contracts. A little more than fourth of our PMS portfolio invested in infra companies more or less became victim to this phenomenon.>
Now let us take example of a few companies' financials: JMC Projects (Kalpataru group), with annual revenues in excess of Rs 2,600 crore is traded at a market capitalization of Rs 210 crore. The share price nose-dived as company's profitability came under stress for reasons given above. In fact, in FY 2011-12, company had posted cash profit of more than Rs 92 crore. Similarly, ITD Cementation, an MNC infra company with annual income of Rs 1,600 crore is traded at a market capitalization of Rs 200 crore. ITD has earned cash profit of Rs 76 crore in 2012.
As these companies have large top-line, even marginal improvement in profitability, further aided by lower interest cost, would result in substantial incremental profits in coming years. While infrastructure companies are passing through trying times, it goes without saying that if India has to progress, it cannot do so without proper infrastructure. As government seeks to fix concerns faced by this sector with appropriate reforms, a turnaround can be seen early next year. Besides, as these stocks are available at a pittance of their normal cash profit earning capability, an uptick from hereon would be quite sharp to reflect their true value in the market.
Conclusion:
"In the stock market, you either get good news or good prices."
The current market scenario for small and midcap stocks can be compared with the period of 2002-07. During 12 months period of April 2002 to May 2003, the market did not give any returns with the Sensex hovering around the 3,000 level. Stocks were available at very cheap valuations. Most investors wanted to stay away from equities. And before anyone could realize, in the next 18 months, the market doubled (6,200 in November 2004). Investors were left dumbfounded waiting for a correction which never came. After doubling in November 2004, Sensex then proceeded to double again in the next 18 months to 12,000 in April 2006 and then to 20,000 plus by December 2007. Most investors who ventured in the last two legs of the bull market did make returns, albeit mediocre.>
We believe, as the title of this letter to our investors "Opportunities abound amid extreme uncertainty" suggests, that this is the time for making investment in equities. It may be a painful period of a few months or even a few quarters, but it will also give opportunity to make handsome profits over a longer period, with quite moderate risk profile of the portfolio. While it would be natural to feel slighted due to drop in share prices in the interim, it is important to recognize that one cannot always buy at the bottom. Also, in small and midcap stocks, the prices come off with small selling reflecting more or less a notional loss.
We at QuestPMS believe that we will witness an inflexion point over the next 18 months as a result of the following likely positives:
1) Global commodity and oil prices easing off further due to lower growth in major global economies. This will lead to lower inflation and lower interest rates in India, while Fiscal and Current Account deficits will also narrow down.
2) Early forecasts by some international models suggest normal south-west monsoon for India in 2013. A normal monsoon leads to lower food prices and higher growth in economy.
3) After election, we have a stable and reformist new government.
4) Infrastructure spending is stepped up and our GDP growth rises to 6.5 percent in 2013-14 and rises further in 2014-15. And finally
5) Shift in investor sentiment towards equities from precious metals, debt funds and real estate.
All these will pave the way for substantially higher prices and price-earnings multiple for small and midcap stocks from the current depressed valuation levels.
Warm regards,
Ajay Sheth
March 28, 2013
To know more about Quest and QuestPMS please visit our website: www.questinvest.com
DISCLAIMER: This communication does not constitute or form part of any offer or recommendation or solicitation to subscribe or to deal with QuestPMS. The views expressed by Ajay Sheth, Portfolio Manager QuestPMS are his personal views as on the date mentioned. These should not be construed as investment advice to anyone. This communication may include statements that may constitute forward looking statements. The statements included herein may include statements of future expectations and are based on the author's views, observations and assumptions and involve known and unknown risks and uncertainties that could cause the actual results, performance or events to differ substantially or materially from those expressed or implied in such statements. The author does not undertake to revise the forward looking statements from time to time. No representation, warranty, guarantee or undertaking, express or implied is or will be made. No reliance should be placed on the accuracy, completeness or fairness of the information, estimates, opinions contained in this communication. Before acting on any information contained herein, the readers should make their own assessment of the relevance, accuracy and adequacy of the information and seek appropriate professional advice and, shall be fully responsible for the decisions taken by them.