Sensex, Nifty at all-time high: Prepare for volatility around and after the election time
Both Sensex and Nifty recorded new all time highs during January – March 2014 quarter largely on aggressive FII buying despite quite a few headwinds like slowing economy, high inflation, high interest rates, political uncertainty and Fed tapering. The rise in market was also aided by strong global sentiment and by the belief that the economy may have finally bottomed out. In reality, the economy / business activity seems only moderate, while the industry is eagerly waiting for the election outcome. Clearly, corporate fundamentals seem to have taken a back seat.
More surprisingly, the rally is being led by high beta stocks and sectors which were laggards till recently (Banks, Real Estate, Capital Goods, Infrastructure etc.), dwarfing the good show by the defensive and export earnings-driven stocks (IT, Healthcare, FMCG etc.).
Markets are being driven more by the belief that the elections will result in a strong coalition at the centre. More specifically, the market believes that Narendra Modi (BJP's Prime Ministerial candidate) will lead the next Government in the centre. Most opinion polls suggest that the BJP-led NDA alliance is gathering momentum and is poised to get quite close to the 'magic number' of 272 seats in the 543 member strong Lok Sabha.
2014: A make or break year?
While it is true that the worst may be over for India, possibility of a stable and more business friendly Government may lead to a higher economic growth in the coming months. Some Macro-economic factors have already turned favourable with a sharp fall in India's current account deficit aided by lower trade deficit arising from increasing exports and falling imports. And inflation is clearly headed lower.
Another factor which is helping Indian companies is the sharp fall in commodity prices on the back of China, the world's largest consumer of commodities, seeing its economic growth slowing sharply to around 7 per cent.
Also, the equity boom is not only an Indian phenomena, it is a global phenomena. So much so that even the European stock indices are making new record highs. India is certainly much better placed than Europe with reasonable valuations, upward revisions in corporate earnings and the talk of a political management change. The complete paralysis in decision making seen in the last two-three years is likely to see a major positive change once a stable government comes to power. And hopefully, this will lead to less crony capitalism and much more transparency. Thanks to the Aam Aadmi Party, there is also hope for a decline in corruption levels.
The stock market has also gained as other alternative investment instruments have given sub-par returns. The debt market (hitherto considered to be a safe haven) gave a rude jolt to investors in the June-September quarter of 2013 which may prompt investors to consider investments in equities. Returns from real estate and precious metals such as Gold have been flat at best.
Foreign investors have been withdrawing funds from BRIC countries viz. Russia in the wake of Crimean annexure and also from China on worries of slowing economy. Part of this redemption proceeds are being deployed in India while their outlook has been cautious in Brazil as a result of a sovereign downgrade. We believe India could continue to attract increased FII flow in the foreseeable future
QuestPMS:
We at QuestPMS have continued with our investment strategy during the last quarter and have consolidated our portfolio into fewer stocks by selling laggards and by increasing weightage of stocks with better prospects. As you will observe from the performance table that our stocks have performed quite well over the past 12 months (outperforming all relevant indices in the 3-month, 6-month and the one-year category) and we are confident that we will continue to do well in the coming quarters and years.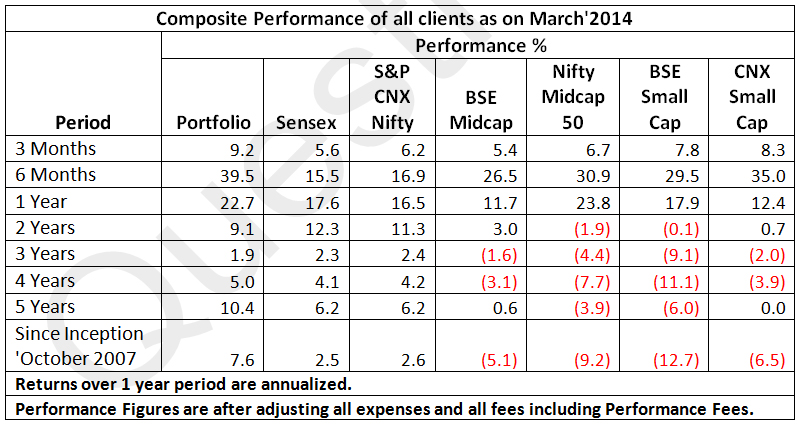 Turning to stock fundamentals, we expect an increase of 16 and 14 per cent in weighted average sales for PMS companies for FY14 and FY15 respectively, with profit growth of around 25% and 42% for both the years respectively. The portfolio consists of companies which are mostly debt-free. The weighted average portfolio is trading at a PE of 12.2 times for FY14 earnings and 8.6 times FY15 earnings. In terms of sector allocation, portfolio is extremely well-balanced with 29 per cent in export-oriented sectors like Information Technology (13 per cent) and Specialty Chemicals (16 per cent), 32 per cent in Infrastructure and Engineering companies, 9 per cent each in Healthcare and FMCG and the balance 5 per cent each in Agro based and Media companies.
We own a portfolio of strong and sound stocks with strong balance sheets and good growth prospects even in a slowing economy. We believe, one needs patience while investing in equities, especially in small and mid-cap companies. In the short term, a change in Government may result in higher returns in most stocks but only good businesses make money in good as well as bad times. Therefore one has to invest in good businesses and sit through them for at least 3 to 5 years.
Conclusion:
The euphoria is spreading. FIIs continue to invest aggressively and retail investors are making a cautious comeback to ride the rally in the market where major indices have touched a lifetime high. A 'favourable' election outcome (predicted by most pollsters) could provide a disproportionate boost to some sectors and stocks, some of which are severely under-owned by investors today. However, investing in high beta stocks carry equally high risks and many investors could lose their shirt if their bets on the outcome of the forthcoming general election backfire. FIIs have not abandoned India despite years of poor policy-making. They may, however, trim exposure substantially if they are unhappy with the election results. Thus, strong post-election trend could take the market zooming to overvalued levels or alternatively push it down to a level of severe under-valuation.
We at QuestPMS are better off in the mid-cap space ahead of the general elections, given that large-cap stocks have already risen substantially and may see limited upside from current levels. BSE mid-cap index is trading at a PE of less than 8 times compared to the Sensex PE of 18 times. We believe, once the confidence returns, the focus will be on quality mid cap stocks with attractive valuations.
This is the situation where patience and the ability to ride out the volatility caused by political uncertainty will be rewarded handsomely.
Ajay Sheth
March 31, 2014.
DISCLAIMER: This communication does not constitute or form part of any offer or recommendation or solicitation to subscribe or to deal with QuestPMS. The views expressed by Ajay Sheth, Portfolio Manager QuestPMS are his personal views as on the date mentioned. These should not be construed as investment advice to anyone. This communication may include statements that may constitute forward looking statements. The statements included herein may include statements of future expectations and, are based on the author's views, observations and assumptions and involve known and unknown risks and uncertainties that could cause the actual results, performance or events to differ substantially or materially from those expressed or implied in such statements. The author does not undertake to revise the forward looking statements from time to time. No representation, warranty, guarantee or undertaking, express or implied is or will be made. No reliance should be placed on the accuracy, completeness or fairness of the information, estimates, opinions contained in this communication. Before acting on any information contained herein, the readers should make their own assessment of the relevance, accuracy and adequacy of the information and seek appropriate professional advice and, shall be fully responsible for the decisions taken by them.